History of the Stewarts
| Castles and Buildings
If you are a Stewart Society Member please login above to view all of the items in this section. If you want general information on how to research your ancestors and some helpful links - please look in background information.
If you have a specific question you can contact our archivist.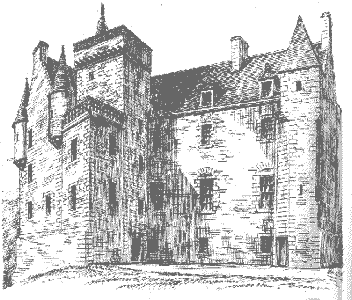 Redcastle - NES
Near Montrose. Angus.
The earliest structure on the site was built for King William the Lion in the late twelfth century to repel Viking invasions to Lunan Bay. Evidence shows, however, that William took up residence there on several occasions whilst on hunting expeditions. In 1194, William conferred the castle, and land surrounding the village of Inverkeilor, 2 kilometres (1.2 mi) east of the castle, to Walter de Berkely, the Royal Chamberlain. On his death, his lands of Inverkeilor, with the castle, passed to Ingram de Balliol who had married the heiress of Walter. He rebuilt the castle and the property remained in that family for two generations. When his grandson, Ingram, who flourished between 1280-84, died childless about 1305 the property passed to the son of Constance de Baliol, Henry de Fishburn.

The property was forfeit during the reallocation by Robert the Bruce who in 1328 gave the castle to the Earl of Ross. The castle is referred to as rubeum castrum (Latin for Red Castle) in deeds of 1286, referring to its burnished red sandstone, typical of this area.
He sold it to Robert Stewart in 1367 and it remained with his descendants, the Stewarts of Innermeath, who built the Tower House in the late fifteenth century

On 27th February 1579, Andrew Gray of Dunninald attacked the castle with artillery, besieging it until 2nd March when he had blown the doors of the tower in, but not gained control of it – on this date the provost of Dundee arrived with relieving troops. on 3rd February 1581 Gray was back, and easily captured the nearly empty castle, setting fire to all the buildings in the courtyard. For his actions he was outlawed and his property declared forfeit. The barony passed to the Ruthvens by the mid 17th century, and then to the Earl of Northesk. It was last inhabited at the end of the 17th century, and is said to have been dismantled in 1748, and used for building materials.