History of the Stewarts
| Castles and Buildings
If you are a Stewart Society Member please login above to view all of the items in this section. If you want general information on how to research your ancestors and some helpful links - please look in background information.
If you have a specific question you can contact our archivist.
Ardvorlich
Seat of Balquhidder Stewarts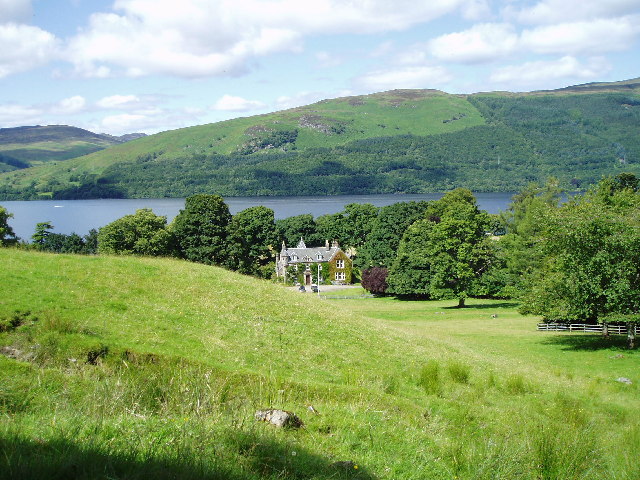 © Copyright Kevin Rae and licensed for reuse under this Creative Commons Licence.
Ardvorlich is located roughly midway along the south shore of Loch Earn ("The Lake of the Irish") in Perthshire. It is located at the west end of the parish of Comrie, but it closely borders with the neighbouring parish of Balquhidder.
Ardvorlich has been the residence of the Stewart Family since the 16th century. The present house, built 1790 by Robert Ferguson, probably with fabric from an earlier castle, is a good example of a medium-sized formal 18th century house, with additions from throughout the 19th century. An account from 1819 describes the house as: "The seat of William Stewart, Esq., surrounded by fine old timber, and very young plantations".The fictional castle of "Darnlinvarach", described in Sir Walter Scott´s 1819 novel A Legend of Montrose, was based on Ardvorlich House, which Scott had himself visited. The Stewarts of Ardvorlich have owned the estate for more than 400 years and continue to do so to the present day.
In or around 1488 William Stewart of Baldorran was appointed Royal Bailie of the Crown Lands of Balquhidder, Perthshire. William brought the Stewart name to Balquhidder and founded the Balquhidder Stewart clan. The Stewarts of Ardvorlich, Glen Buckie, Gartnafuaran and Annat and their cadet families are all descended from him.