History of the Stewarts
| Castles and Buildings
If you are a Stewart Society Member please login above to view all of the items in this section. If you want general information on how to research your ancestors and some helpful links - please look in background information.
If you have a specific question you can contact our archivist.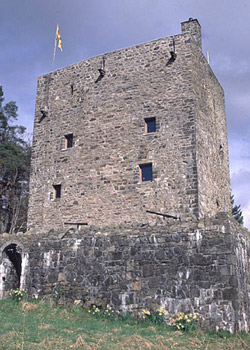 Garth Castle
Garth Castle is a plain 14th century keep built by Alexander Stewart, the Wolf of Badenoch, Lord of Badenoch and Earl of Buchan, 4th son of Robert II. He died here in 1396, and is buried in Dunkeld Cathedral.
In 1502, Nigel Stewart of Garth attacked nearby Weem Castle, burned it, and took Sir Robert Menzes prisoner. Stewart put Menzes in the dungeon at Garth, threatening to have him killed unless he signed away some of his lands. Stewart was nearly executed for the crime and was only saved by the intervention of the earl of Atholl. Stewart was later suspected of murdering his wife, Mariota, and was imprisoned in Garth until his death in 1554.
The castle then passed to the Stewarts of Drumcharry. It was abandoned about the middle of the 18th century, and became ruinous. It was partly restored in 1880, and again in the 1960´s. It is occupied.