History of the Stewarts
| Historical Objects
If you are a Stewart Society Member please login above to view all of the items in this section. If you want general information on how to research your ancestors and some helpful links - please look in background information.
If you have a specific question you can contact our archivist.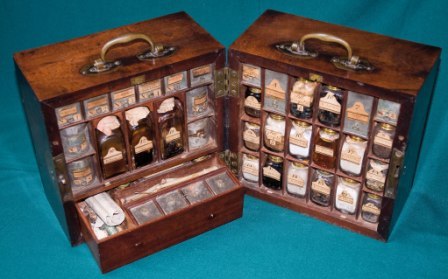 This travelling medicine chest belonged to Sir Stuart Threipland, who was personal physician to Prince Charles Edward Stewart during the Jacobite rising of 1745-46. Threipland's medicine chest, which was carried by him throughout the 1745 Rebellion, is thought to have been given to him by Prince Charles himself. It contains 160 remedies and numerous miniature instruments
After Culloden, Threipland and Prince Charles managed to escape and make their way to Badenoch where they hid in a cave. Here Threipland also cared for Cameron of Lochiel who had serious ankle injuries. He eventually reached France about the time Prince Charles returned to exile there.
The 1747 amnesty allowed Threipland to return to Scotland. He married and was later President of the Royal College of Physicians Edinburgh.