History of the Stewarts
| Tartans
If you are a Stewart Society Member please login above to view all of the items in this section. If you want general information on how to research your ancestors and some helpful links - please look in background information.
If you have a specific question you can contact our archivist.
Royal Family Tartans
Stewart Mourning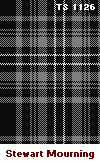 These tartans are monochromatic versions of the Royal Stewart and are sometimes called mourning tartans. Found in Clan Originaux (TS1232), published in Paris in 1880 by J. Claude Fres Et Cie, of which only one copy exists, and in W & A K Johnston (TS1231) from 1906.