Latest News
Stewart Highland Games Saturday 22nd August 2015
Everyone welcome - 2pm to 6pm at Ballone Castle, Portmahomack,nr Tain, Highlands
BBQ, Games, workshops, prizes. £5 for adults and free for under 12s.
Bannockburn Genetic Genealogy Project
Using traditional genealogy, historical context and DNA analysis The University of Strathclyde provided some very interesting results relating to individuals who share the same common ancestor - including Walter, the High Steward. Read more about the Bannockburn Genetic Genealogy Project and how to go about your own DNA test.
The project is particularly interested in documented descedants of Robert II, Robert III, James II & James V who would be interested in taking a DNA test . More information on on what to do in The Stewarts 2015.
Have you got an hour a month to spare to help the society?
Volunteers needed. All sorts of work available from office work, to answering queries and research. Training and tea available. Contact the secretary if interested.
The Gordon Stewart Memorial Competition
Well done to all the entrants. But we do have a winner - David Samson who will play his composition at the Gathering. Congratulatons, David. His composition will be published in the magazine in 2016.
St Andrew's Stewart Bursars 2014/15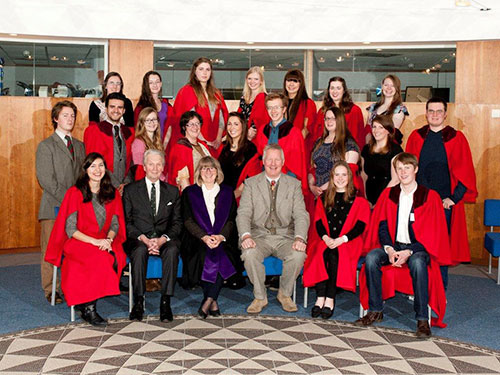 The St Andrew's Bursars with Lachlan Stewart, President, Lorna Milne. Vice Principal, St Andrews, & Lord Stewart.
The Stewart Society Benevolent Fund supports Stewart students at St Andrew's University with a small grant each year. These are the bursars from this academic year..
Small grants may be available for Stewart students at other universities as well seeking to further their studies through travel or other means.
Please apply for further details to the Secretary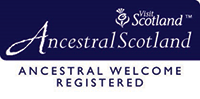 Events
The next Council Meeting
The next meeting of the Council of the Stewart Society will be at 5 pm on Friday 21st August 2015
2015 Stewart Gathering 21-23 August
We invite all Stewarts to a Stewart Gathering at Ballone Castle, nr Tain in the Highlands.
Friday 21st August
The Stewart Society AGM and the informal President's reception
Saturday 22nd August
A visit to Culloden - and lunch at the new visitors' centre.
Bookings for the Culloden trip are closed and it is full.
Highland Games for all. Everyone is welcome to the Highland Games - Beer tent, BBQ, highland dance workshops, games prizes.. £5 for adults free for under 12s pay on the day.
Family tickets and young people's tickets available. Book now here. There are still a few spaces for the ceilidh contact the Secretary now!
A service at Tain will round off the weekend at 12.30 on Sunday with lovely music
The Stewart Society Library
The Society has an extensive library of books, artefacts and papers related to the Stuarts/Stewarts and Scottish history as well as genelogical research at our offices in George St, Edinburgh.
We would be very happy to see you here and the library is available to any member by appointment with the Secretary by email or call 0131 220 4512
Useful Links
Looking for your Stewart ancestors? Try these links first.
Want to know more about the history of tartan?