Latest News
The Stewart Gathering 2020
The Stewart Gathering 2020 will be on 4-6 September and will be based in the lovely Scottish Borders at Sir Walter Scott's house of Abbotsford, near Melrose. We will visit some of the many beautiful and historic Stewart houses and sites in the Borders. Book now further details and a booking form here Booking form
You can see previous Gatherings in our photo gallery. If you have any that you are happy to share please send them to the Secretary
Membership
Annual Memberships are due for renewal now.
Renew your membership or join here
The London Dinner 2020
Bookings are now open for London Dinner 2020 on Thursday 21st May at the Caledonian Club, Halkin Street
The Guest of Honour will be Lieutenant General Andrew Graham , late of Argyll and Sutherland Highlanders
St Andrews Bursars 2019/2020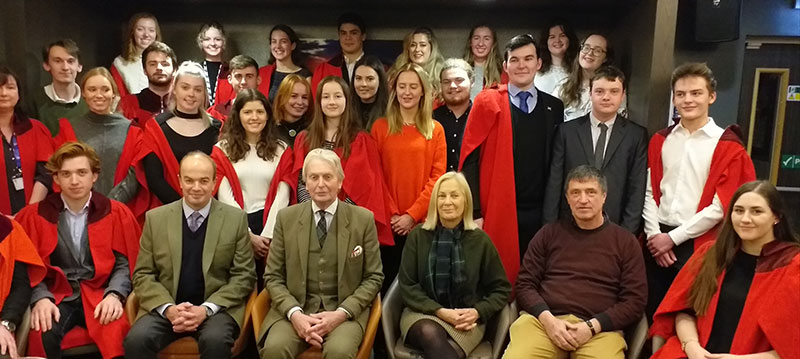 We were very pleased to meet the St Andrews Bursars for 2019/20 in an informal ceremony on the 19th of November 2019 at the Student Union. The Stewart Society was represented in force, from left to right - Aubyn Stewart-Wilson, the President, Lord Stewart, Lady Stewart and John Lansley.
If you are a student elsewhere and you wish to apply for a busary please email info@stewartsociety.org to discuss your application.
Members' Downloads
Available for download - is the Index of the Magazine volumes 1-21.
The library catalogue and a list of the family trees and other family information that we hold are also available
Newsletter
The newletter will be moving to an online only edition. Please make sure that we have an email address at which you can be reached for the current edition in the winter. If you have news or articles for the next edition please send them to Jenn at info@stewartsociety.org now
Bannockburn Genetic Genealogy Project
The University of Strathclyde have provided some very interesting results relating to individuals who share the same common ancestor - including Walter, the High Steward. Read more about the Bannockburn Genetic Genealogy Project and how to go about your own DNA test.
Marker for male line descendants of King Robert III (1337-1406):
The results of the Big Y test for a documented male line descendant of Sir John Stewart of Blackhall & Ardgowan, d. c.1412, an illegitimate son of King Robert III, have now been received and analysed. Alex Williamson, author of The Big Tree http://www.ytree.net/ has identified a new SNP carried by this individual, which has been given the name ZZ52. Our two other Big Y test results, that is one for Earl Castle Stewart, a descendant of Robert Stewart, Duke of Albany, and the other for a documented descendant of Sir John Stewart, Sheriff of Bute, do not carry this SNP. Robert Stewart, Duke of Albany, and Sir John Stewart, Sheriff of Bute are both brothers of King Robert III. This means that ZZ52 must have occurred in Robert III or one of his male line descendants. In other words, ZZ52 is a distinct marker identifying descendants of Robert III.
Events
The next meeting of the Council of Stewart Society
will be on the 30th of April 2020
Highland Games and other Scottish festivals
We will add to the list on here as the information comes in from our commissioners and volunteers
The Society is attending the Queen Mary Scottish Festival at Long Beach, California on 15 February
Queen Mary Scottish Festival
Contact our California commissioner if you would like to join her Sheri Stewart
Would you like to represent the Stewart Society and Stewarts at New York's famous Tartan Day on Saturday 4 April? The Stewarts are marching along 6th Avenue in the parade. To join in please contact the Society 's New York commissioner, Ann Stewart Burns
AHCS lecture
All Society members are invited to the annual AHCS lecture
Dr Arran Johnston will be speaking about the development of the Highland Army from Glenfinnan to Culloden on Friday 17 April at the Glen Mhor Hotel, Inverness at 7 for 7.30pm
£10 to book please email the Secretary the Association of Highland Clans and Societies
Culloden Service
If you would like to attend the Culloden Service on Saturday 18 April then we recommend you arrive in plenty of time by 10.30am for the Service to start at 11am
Meet at the Visitors' Centre for the procession to the Cairn for the Service by the Gaelic Society for Inverness
Library Visits
We would love to see you! But please contact us in advance to make sure we will be in - Jenn sometimes works from home or has meetings etc. Drop her an email on info@stewartsociety.org or call 0131 2204512 - if you can do so at least a day before you want to come
Useful Links
Want help looking for your Stewart ancestors?
Try these links first. All helpfully gathered together in one place. Updated regularly so keep checking
Want to know more about the real history of tartan? Who wore what and when? How the Stuarts used tartan to help them with the Jacobite cause?