Latest News
Corona Virus Update
The Secretary has been working reduced hours due to the pandemic. This is no longer the case however there is a backlog of work for her to catch up on due to this so please be patient if you have sent a query in the last few months.
She continues to work from home some of the time so email is the best way to get hold of her on email the Secretary
The Stewarts - the Stewart Society magazine
The magazine will be out as normal in the early summer. Please make sure that the Society has your correct postal address. before this date.
If you have not updated your membership please do so before the 1st April 2021 in order to receive the magazine


St Andrews Bursars 2019/2020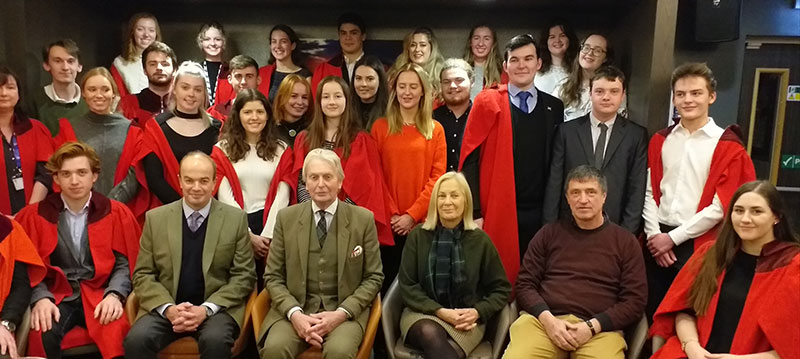 We were very pleased to meet the St Andrews Bursars for 2019/20 in an informal ceremony on the 19th of November 2019 at the Student Union. The Stewart Society was represented in force, from left to right - Aubyn Stewart-Wilson, the President, Lord Stewart, Lady Stewart and John Lansley.
Unfortunately, due to Covid 19 the Society was unable to have a normal award ceremony for the 2020/21 bursars however we are pleased to say that the Stewart Society Benevolent Fund has awarded bursaries to Stewart/Stuart undergraduate St Andrews students as normal.
If you are a Stewart/Stuart student elsewhere and you wish to apply for a busary please email info@stewartsociety.org to discuss your application. Please note that, although bursaries are rarely granted on the grounds of hardship alone, hardship will be considered as a factor in any application.
The Trustees for the Stewart Benevolent Fund are:
Lord Stewart
Earl of Moray
Earl of Galloway
Geordie Burnett Stuart
Lachlan Stewart
Members' Downloads
Available for download
*New*
The 2021 Online Burns Supper
- Index of the Magazine volumes
The library catalogue and a list of the family trees and other family information that we hold are also available
Bannockburn Genetic Genealogy Project
The University of Strathclyde have provided some very interesting results relating to individuals who share the same common ancestor - including Walter, the High Steward. Read more about the Bannockburn Genetic Genealogy Project and how to go about your own DNA test.
Marker for male line descendants of King Robert III (1337-1406):
The results of the Big Y test for a documented male line descendant of Sir John Stewart of Blackhall & Ardgowan, d. c.1412, an illegitimate son of King Robert III, have now been received and analysed. Alex Williamson, author of The Big Tree http://www.ytree.net/ has identified a new SNP carried by this individual, which has been given the name ZZ52. Our two other Big Y test results, that is one for Earl Castle Stewart, a descendant of Robert Stewart, Duke of Albany, and the other for a documented descendant of Sir John Stewart, Sheriff of Bute, do not carry this SNP. Robert Stewart, Duke of Albany, and Sir John Stewart, Sheriff of Bute are both brothers of King Robert III. This means that ZZ52 must have occurred in Robert III or one of his male line descendants. In other words, ZZ52 is a distinct marker identifying descendants of Robert III.
Events
AGM of the Stewart Society
There will be an AGM of the Stewart Society to be held via zoom on Saturday 9 October 2021
at 5pm BST
Please register your interest in attending by emailing the Secretary info@stewartsociety.org
Papers will be sent via email to all those registered
Stewart Gathering 2021
Unfortunately due to the situation with international travel we have cancelled the Stewart Gathering in 2021.
We will be holding an International Stewart Gathering in September 2022 - join us then
Highland Games and other Scottish festivals
The Stewart Society is attending the Coburg, Highland Games Ontario on 10 & 11th September
Join us there!

Why not join us virtually on Facebook or on instagram?
The Stewart Society on Facebook


Library Visits
We would love to see you! But please contact us in advance to make sure we will be in - Jenn sometimes works from home or has meetings etc. Drop her an email on info@stewartsociety.org or call 0131 2204512 - if you can do so at least a day before you want to come
Due the Corona Virus situation the library is currently closed, We wil let you know when it is possible to open the library again, Researchers if you have an urgent query do get in touch I will try to help you
Useful Links
Want help looking for your Stewart ancestors?
Try these links first. All helpfully gathered together in one place. Updated regularly so keep checking
Want to know more about the real history of tartan? Who wore what and when? How the Stuarts used tartan to help them with the Jacobite cause?