History of the Stewarts
| Battles and Historic Events
If you are a Stewart Society Member please login above to view all of the items in this section. If you want general information on how to research your ancestors and some helpful links - please look in background information.
If you have a specific question you can contact our archivist.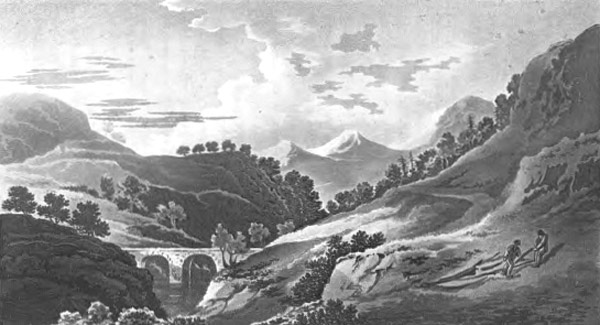 the pass of Killiekrankie from Alexander Campbell - A Journey from Edinburgh Through Parts of North Britain
In the ´Glorious Revolution of 1688´ in England, the Catholic James VII and II was ousted and replaced by William of Orange and Queen Mary. In 1689, the Scottish parliament voted to give the crown of Scotland to William & Mary. In response Viscount Dundee raised mainly Highland forces under the standard of James VII and II in the first Jacobite Rising against King William. The Jacobites were supported by a small force of Irish troops. A Willimite army was raised to counter the loyalist army. This army comprised Lowland Scottish, English and Dutch forces, under General Mackay. On 27th July 1689 they intercepted the loyal troops just to the north west of the Killicrankie Pass, on the key route into the Highlands from Perth to Inverness.
The Jacobites had gained the advantage of the high ground but Mackay took up a suitable position to meet a charge, on a terrace just to the north east of the then main road. Having doubled his files to provide a wider frontage and enable salvo fire from his whole force, the Willamite army waited. After a period of desultory firing Dundee attacked late in the evening. The Jacobite force had limited numbers of muskets, the main weapon being sword, but the Highland charge (a dolsios) suffered substantial losses to the single musket volley. Despite as many as 600 being killed, the charge carried and many more of Mackay´s troops were killed.
In hand to hand fighting the Jacobites had considerable success. Mackay responded with a cavalry charge but this was countered by Dundee's horse. Though the Jacobites had the better of the action and the Wiliamite forces were routed, the firepower of the Williamite right wing regiments allowed them to withdraw in good order, wounding Dundee during one of the cavalry charges. The Williamite army had been severely mauled, losing a large numbers of troops killed or captured.
This was the first and most significant of the battles of the first Jacobite Rising or Highland War in support of James VII and II. Although it was an important victory for the Jacobites, it also resulted in the death of the Jacobite leader, Viscount Dundee, a major factor in the eventual collapse of the Highland War although this took another year to happen.