History of the Stewarts
| Battles and Historic Events
If you are a Stewart Society Member please login above to view all of the items in this section. If you want general information on how to research your ancestors and some helpful links - please look in background information.
If you have a specific question you can contact our archivist.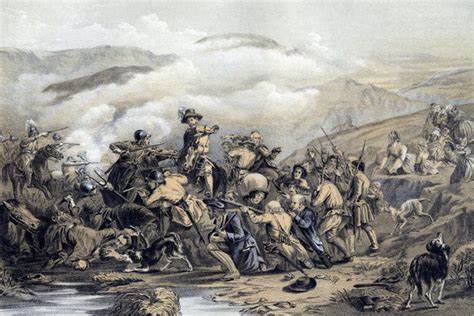 As his reign progressed Charles II imposed increasingly extreme controls on non- conformity throughout his kingdoms. In 1679 this led to open revolt by Covenanters in south west Scotland, following the murder of Archbishop Sharp on 3rd May 1679. The assassins were pursued by John Graham of Claverhouse with a small detachment of horse and dragoons. Claverhouse marched south from Glasgow but, warned of his intention to intercept them at Loudon Hill, the rebels deployed near to the farm of Drumclog, 2km NE of Loudon Hill.
The Battle of Drumclog is important as the opening battle of the 1679 Covenanter uprising. It was a resounding victory for the Covenanters, boosting recruitment to their cause.Given the numbers involved, particularly on the government side however this can be considered little more than a skirmish, despite the significance of its aftermath.
The Covenanters may have been behind a ditch, although accounts vary on this and there were marshes all around. This effective selection of terrain by the Covananters made a cavalry attack difficult and so Claverhouse's dragoons dismounted and advanced on foot to within pistol shot. In response the rebels charged against the centre and left flank of the government deployment. Outnumbered the government forces broke and fled.