History of the Stewarts
| Castles and Buildings
If you are a Stewart Society Member please login above to view all of the items in this section. If you want general information on how to research your ancestors and some helpful links - please look in background information.
If you have a specific question you can contact our archivist.
Craigmillar Castle
Midlothian

Favourite retreat of Mary, Queen of Scots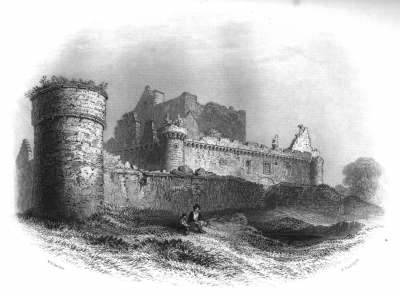 Craigmillar Castle Edinburgh Refuge
Craigmillar is one of Scotland's most perfectly preserved castles. It began as a simple tower-house residence. Gradually, over time, it developed into a complex of structures and spaces, as subsequent owners attempted to improve its comfort and amenity. .
At the core lies the original, late-14th-century tower house. It stands 17m high to the battlements, has walls almost 3m thick, and holds a warren of rooms, including a fine great hall on the first floor, and the so-called 'Queen Mary's Room' beside it, where Mary is said to have slept when staying there as a guest of the Prestons. In all probability, Mary resided in a multi-roomed apartment elsewhere in the courtyard, probably in the east range. Also here is a labyrinth of dark spaces, including a grim basement prison where an upright skeleton was found walled up in the early 19th century. The west range was rebuilt as the Gilmour family's residence after 1660. .
More information on Craigmillar can be found at www.historic-scotland.gov.uk