History of the Stewarts
| Castles and Buildings
If you are a Stewart Society Member please login above to view all of the items in this section. If you want general information on how to research your ancestors and some helpful links - please look in background information.
If you have a specific question you can contact our archivist.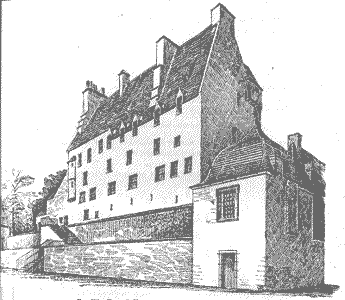 Traquair House - The oldest inhabited house in Scotland
Traquair is Scotland's oldest Inhabited House. It has been lived in for over 900 years and was originally a hunting lodge for the kings and queens of Scotland.

In 1491, it was given by the Earl of Buchan to his son, James Stewart, who became the 1st Laird of Traquair.
It was during this period Traquair changed from being a defensive tower house into a family home. In the sixteenth century the lairds of Traquair played an important role in public life. John Stuart, 4th Laird of Traquair became the Captain of the Queen's bodyguard to Mary Queen of Scots. He was host to the Queen when she visited Traquair with her husband and baby son James in 1566

It was also at this time that the main building was extended so that by 1599 the main body of the house was completed. Then in the early 1600's the seventh Laird added the top storey, realigned the windows, and changed the course of the River Tweed so it ran further away from the house. The building of Traquair was completed in 1695 by the Edinburgh architect James Smith who added the two side wings wings, erected the wrought iron screen in the the courtyard and at the rear of the house created a double terrace with two ogee roofed pavilions to overlook the formal gardens.