History of the Stewarts
| Castles and Buildings
If you are a Stewart Society Member please login above to view all of the items in this section. If you want general information on how to research your ancestors and some helpful links - please look in background information.
If you have a specific question you can contact our archivist.
The Queen's Chapel of the Savoy.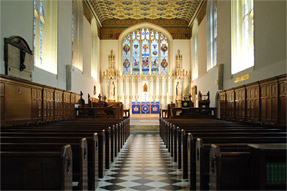 The Chapel is part of the Duchy of Lancaster and so is owned by the Queen.The Chapel has Jacobite connections as Dr Archibald Cameron is buried beneath the altar of the chapel. The plaque commemorating the event is to be found in the floor to the right of the altar. Dr Grant was the brother of Donald Cameron of Locheil without whose support the Rising of 1745 would have struggled to get off the ground. After the Jacobite defeat at Culloden in 1746 which brought hopes of a Stuart restoration to an end the Prince, Dr Grant and others took refuge in "Cluny´s Cage," a remote hideaway in the depths of Ben Alder, before final escape to France.
Dr Grant, ever the loyal Jacobite, made several secret visits to Scotland after 1746. Some of these visits were in connection with the fund of money now referred to as "The Loch Arkaig Gold". He was also involved in "The Elibank Plot", a largely ridiculous and unsuccessful attempt to restore the Stuarts to the throne. Dr Cameron remained in Scotland after the plot was betrayed by Alistair Ruadh MacDonell of Glengarry and was arrested in March 1753. Taken to London he was executed at Tyburn on 7 June 1753, the last man to be put to death for involvement in the 1745 Uprising.
The inscription on the plaque reads, "In memory of Dr Archibald Cameron, brother of Donald Cameron of Lochiel, who having been attainted after the Battle of Culloden in 1746 escaped to France but returning to Scotland was apprehended and executed in 1753. He was buried beneath the altar of this Chapel."