History of the Stewarts
| Castles and Buildings
If you are a Stewart Society Member please login above to view all of the items in this section. If you want general information on how to research your ancestors and some helpful links - please look in background information.
If you have a specific question you can contact our archivist.
St Germain- en Layes
Mary Queen of Scots´ childhood home and the exiled Jacobite court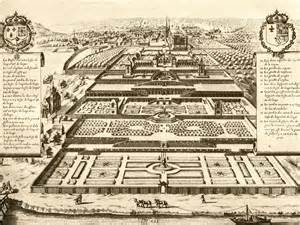 Saint Germain had been the site of a royal palace since the 12th century. The chateau had been rebuilt by Francois in in the late 1530s. Henry II would subsequently add an expansive new royal complex - the chateau neuf. In the 16th century, Mary, Queen of Scots spent much of her childhood here growing up with the Dauphin who was to become her husband.
In the 18th century, Louis XIV turned the château over to King James II of England after his exile from Britain in the Glorious Revolution of 1688. King James lived in the château for thirteen years, and his daughter Louise-Marie Stuart was born in exile here in 1692. King James lies buried in the nearby Church of Saint-Germain; his wife Mary Beatrice remained at the château until her death in 1718. Their son James left the château in 1716, ultimately settling in Rome. Many Jacobites remained at the château until the French Revolution, leaving in 1793. The Jacobites often consisted of former members of the Jacobite court, and the apartments left empty in the chateau by the Jacobite court pensioners upon their death, were often passed down to their widows and children by the caretaker of the chateau, Adrien Maurice, the Duke de Noailles. The Jacobite colony at Saint-Germain was still dominant in the 1750s, when they were however treated with increasing hostility. After the death of the Duke de Noailles in 1766, who had been responsible for the continuing Jacobite dominance because of his preference to give rooms to Jacobites, the British dominance quickly decreased and more French inhabitants were given lodgings in the chateau: the last member of the Stuart court was Theresa O´ Connel, who died in 1778. The last descendants of the British Jacobites, by then mostly bearing French names, were evicted when the building was confiscated by the government during the French revolution in 1793.