History of the Stewarts
| Castles and Buildings
If you are a Stewart Society Member please login above to view all of the items in this section. If you want general information on how to research your ancestors and some helpful links - please look in background information.
If you have a specific question you can contact our archivist.
Glenfinnan Monument
Inverness-shire

Landing place of Prince Charles Edward Stuart in 1745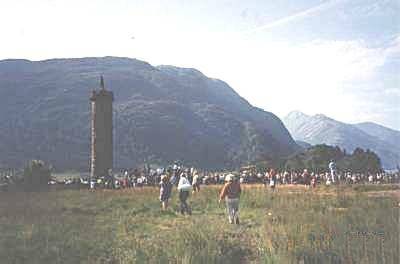 Glenfinnan Monument Landing place of Prince Charlie
On 19 August 1745 Prince Charles Edward Stuart, accompanied by the Seven Men of Moidart, was rowed up the length of Loch Sheal and landed on the beach at a spot very close to the Monument. The Standard was raised here, marking the beginning of the Jacobite Rising.
The Monument was built in 1815 and later passed into the ownership of the National trust for Scotland. A representative of the Stewart Society is always one of the Trustees for the Monument and sits as part of the local Glenfinnan committee.
The Glenfinnan Games is held here annually. On 19 August 1995 the Stewart Society gathered here to coincide with the Games, two hundred and fifty years, to the very day, since the Jacobite Standard was raised.