History of the Stewarts
| Castles and Buildings
If you are a Stewart Society Member please login above to view all of the items in this section. If you want general information on how to research your ancestors and some helpful links - please look in background information.
If you have a specific question you can contact our archivist.
Invergarry Castle
In the Great Glen, Highland

Visited by Prince Charles Edward Stuart before and after Culloden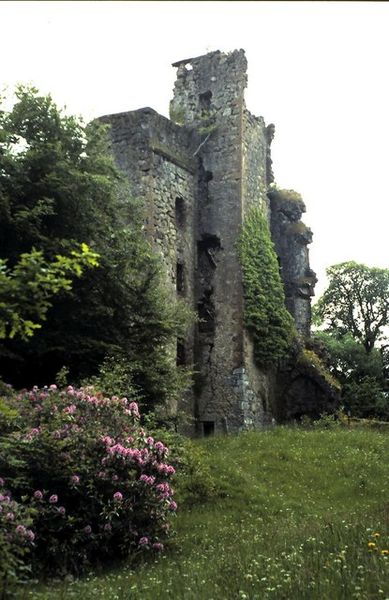 © Copyright ronnie leask and licensed for reuse under this Creative Commons Licence
Built in the late seventeenth century, this spectacular ruin was the stronghold of the Macdonnels.
The castle´s position overlooking Loch Oich on Creagan an Fhithich - the Raven´s Rock - in the Great Glen, was a strategic one in the days of clan warfare. It is not certain when the first structure was erected on Creagan an Fhithich but there are at least two sites prior to the present castle. It was the seat of the chief of that clan until 1746.
Prince Charles Edward Stuart arrived here on 26 August 1745. It was here that he was advised by the Duke of Atholl to march south to Edinburgh, raising the men of Atholl as he went. It was here, too, that he was joined by around 260 officers and men of the Appin Regiment, led by Stewart of Ardsheal. In the course of his escape from Culloden the Prince rested at Invergarry; the castle was immediately thereafter burned and destroyed by the Government army who were pursuing him westwards; it has never been rebuilt.
The castle stands in a strong position on a steep bluff on the north bank of Loch Oich, near the point where the Inverness-shire Garry runs eastwards out of Glengarry into the Great Glen. Designed on the traditional L-plan, but at 45 degrees to the compass points, there is an oblong tower built into the re-entrant angle (north) and a circular turnpike tower at the eastern-most corner.
Prince Charles Edward Stuart arrived there at 2 am. on 17 April 1746, the day after his final defeat at Culloden, and slept or rested until 3 pm. He then rode on with three companions by Loch Arkaig and Glenpean, where he spent the following night.
http://www.invergarrycastle.co.uk/