History of the Stewarts
| Castles and Buildings
If you are a Stewart Society Member please login above to view all of the items in this section. If you want general information on how to research your ancestors and some helpful links - please look in background information.
If you have a specific question you can contact our archivist.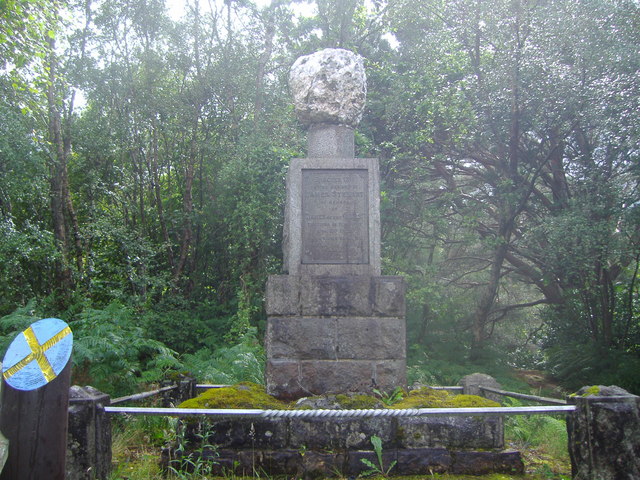 Monument to James of the Glen - where his bones hung for years
After the Appin Murder it was decreed that James of the Glen should be hung on the promontory at Ballachulish and that his body should remain on the gibbet as a warning to any who might oppose the established rule of law. His sentence was duly carried out and his body left - in sight of his mother´s house on the other side of the loch - and under guard to prevent anyone foolish enough to think of removing it. It remained there for eighteen months until the gibbet was torn down by a gale and sent into the dark waters of the loch.

It´s not known for sure who fired the shot that killed Colin Roy Campbell of Glenure. There are many theories and possibilities but it remains a mystery. The memorial to James of the Glen on the promontory at Ballachulish is made from the white stone of his farm at Acharn . Three miles to the west, on the quiet hillside of Lettermore, is a slate cairn in memory of Colin Roy Campbell of Glenure which also marks the spot of the death of someone caught up in circumstance and guilty of being in the wrong place at the wrong time.