History of the Stewarts
| Castles and Buildings
If you are a Stewart Society Member please login above to view all of the items in this section. If you want general information on how to research your ancestors and some helpful links - please look in background information.
If you have a specific question you can contact our archivist.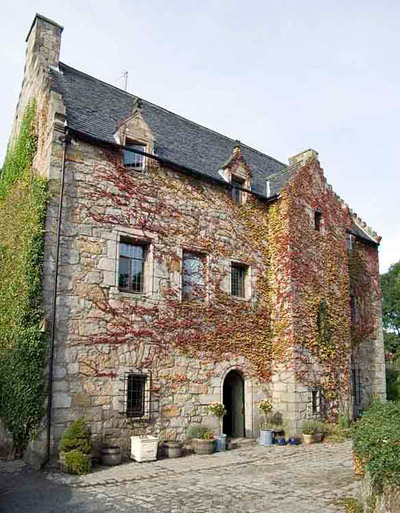 Although a modest manor house Blackhall has a history which stretches back 850 years. Walter Fitzalan built what was probably the first Blackhall, before he founded Paisley Abbey in about 1163. This "hall" is mentioned in the foundation charter for the Abbey, where it is described as having been built upon a rock. Walter died in 1177, to be succeeded by his son Alan, who confirmed all his father´s grants to Paisley Abbey, mentioning the "hall" which his father had built.
There is relatively little evidence of Blackhall´s status in this period. Work seems to have begun on the castle at Renfrew some time in the late 13th century, however, and its completion may have led to some diminution in Blackhall´s importance. As late as 1298, however, James, the fifth High Steward, was signing documents at Blackhall, although the Ragman Roll of 1296 lists a "Thos le Wright" of Blackhall, presumably a steward or tenant.
Although its owners had done well for themselves, little of this success rubbed off on Blackhall. The dearth of references to it during the 14th century presumably reflect its humble status. In 1396, however, Robert III gave it to his natural son Sir John Stewart, who had already received the lands of Auchingoun in 1390 and was to receive the lands of Ardgowan in 1403. Thereafter, successive lairds seem to have used the titles Ardgowan and Blackhall to describe themselves without differentiating between the two properties. Perhaps the two places were used equally, with the latter giving access to the expanding settlement of Paisley. Barony courts seemed to have been held at Blackhall regularly during the 16th century, according to the Barony Court book which was in the Ardgowan papers in the 19th century. In the first years of the century, the young laird, John´s son James, was a favourite of James IV and regularly attended the royal court. After Flodden (1513) John´s brother James was in charge of the king´s ships in Dumbarton harbour. By 1539 another James inherited the lands, despite the fact that he was a minor. He was confirmed in the lands of Ardgowan with its tower house and Blackhall with its "place".
The Stewarts continued to live at Blackhall, at least periodically, throughout the 16th and most of the 17th centuries. In 1613, the property was inherited by Archibald Stewart, a brilliant advocate who was knighted by Charles I and made a member of the Privy Council. He was succeeded by his grandson Archibald, who, in 1667, became the first Baronet of Blackhall, when Charles II created him a Baronet of Nova Scotia. Just how Blackhall developed over this period is unclear and a matter for considerable speculation. It was probably improved periodically, as the family´s circumstances allowed. It is unclear as to when the family stopped living in Blackhall but, in the Poll Tax records of 1695, the "place" is inhabited by a James Maxwell, his family and servants. A contemporary account states that "the Laird of Blackhall (resides) at Ardgowan and (Blackhall) is less regarded......by him". About this time it is recorded that a new house was being built at Ardgowan. The Stewart (subsequently Shaw-Stewart) family continued to style themselves as being "of Ardgowan (or Greenock) and Blackhall" until gifting the latter to the Burgh of Paisley in 1940. The house itself entered a period of decline. In 1710, Blackhall is described as having gardens to the east of it. Much of the land had been enclosed, with farming the main activity. When Sir Archibald Stewart, the second Baronet of Blackhall, died in April 1724, aged 19, to be succeeded by his brother Michael, the Barony appears to have comprised 24 families, in addition to which there was a lime-work, with water taken from the quarry by a windmill, and a cloth bleach-field carried on by a William King (who may be the "W King" whose name is engraved on a stone in the back wall of the house). It would appear, however, that Blackhall was still used for administrative purposes; in the 1780´s, tenants had to bring their rents in cash and kind to the house.
About 1842 work was begun on a new house for the farmer, immediately adjacent. When the farmer moved out of Blackhall, the roof was removed to avoid tax. The house was then used as a cattle shed and store. By 1936 it was being used as a coal shed. In 1940 the Shaw-Stewart family gifted Blackhall and a surrounding 2.8 acres to "the Provost, Magistrates and Councillors of the Burgh of Paisley and their successors in office" on condition that it "shall be held and administered... in all time coming as an open space for behoof of the inhabitants of the Burgh of Paisley and shall be maintained in good order and condition... " and that "the Old Manor House of Blackhall... shall be preserved and maintained...". There was a call to demolish it, in view of its dangerous condition Blackhall lay neglected from that time, except by adventurous children and vandals, until 1978 when there was a call to demolish it, in view of its dangerous condition. The council considered this option but the public outcry was such that the order was given to shore-up the building and brick-up the windows against further damage. In 1982, Alex Strachan acquired the property and immediately set about the gargantuan task of restoring it. Leith and Rachel Stuart bought Blackhall in 1990.