History of the Stewarts
| Castles and Buildings
If you are a Stewart Society Member please login above to view all of the items in this section. If you want general information on how to research your ancestors and some helpful links - please look in background information.
If you have a specific question you can contact our archivist.
Doune Castle
Doune, Perthshire

Albany´s mediæval stronghold and a Jacobite prison.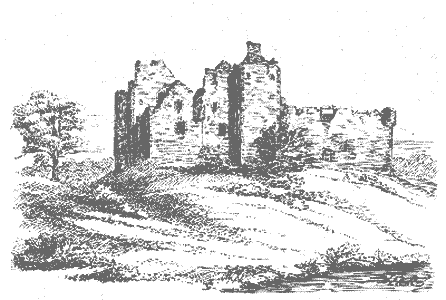 Recent research has shown that Doune Castle was probably built in the thirteenth century, then damaged in the Scottish Wars of Independence, before being rebuilt in its present form in the late 14th century by Robert Stewart, Duke of Albany, the son of King Robert II of Scotland, and Regent of Scotland from 1388 until his death. Duke Robert´s stronghold has survived relatively unchanged and complete, and the whole castle was traditionally thought of as the result of a single period of construction at this time. His son, Murdoch was also regent of Scotland from 1419 - 1425. However when James I returned to Scotland after his long captivity in England, Albany was executed and his wife Isabella captured at Doune, and imprisoned at Tantallon Castle, East Lothian. The castle then passed to the crown and was used as a royal hunting lodge. It was also used as a dower house by Mary of Guelders, Margaret of Denmark and Margaret Tudor the widows of James II, James III and James IV respectively.
In 1528, Margaret Tudor, now Regent of Scotland for her infant son James V, married Henry Stewart, 1st Lord Methven, a descendant of Albany. His brother, Sir James was made Captain of Doune Castle, and Sir James´ son, also James was created Lord Doune in 1570. Lord Doune´s son, another James married Elizabeth Stuart, 2nd Countess of Moray around 1580, becoming Earl of Moray himself. The castle became the seat of its keepers, the Earls of Moray, who owned it until the 20th century.
Due to the status of its builder, Doune reflected the fourteenth century idea of what a royal castle building should be.It was planned as a courtyard with ranges of buildings on each side, although only the northern and north-western buildings were completed.
Mary, Queen of Scots stayed at Doune on several occasions, occupying the suite of rooms above the kitchen. Doune was held by forces loyal to Mary during the brief civil war which followed her forced abdication in 1567, but the garrison surrendered to the Regent, Matthew Stewart, 4th Earl of Lennox, in 1570, after a three-day blockade.George Buchanan and Duncan Nairn, Deputy Sherriff of Stirling presided over the torture and interrogation of a messenger, John Moon, at Doune on 4 October 1570. Moon was carrying letters to Mary, Queen of Scots and Mary Seton.
King James VI visited Doune on occasion, and in 1581 authorised £300 to be spent on repairs and improvements. In 1593, a plot against James was discovered, and the King surprised the conspirators, who included the Earls of Montrose and Gowrie, at Doune Castle.
During the ´45 the castle was in government hands and was used as a prison for Jacobites. In Sir Walter Scott´s first novel, Waverley, Edward Waverley is brought to Doune Castle by the Jacobites. Scott describes the "gloomy yet picturesque structure", with its "half-ruined turrets".
The film Monty Python and the Holy Grail was filmed at Doune. The castle was also used as a location in MGM´s Ivanhoe which featured Robert Taylor and Elizabeth Taylor. The BBC adaptation of "Ivanhoe" in 1996 featured Doune as a location. The castle was used as the set for Winterfell in the TV series Game of Thrones. The castle was used as a stand-in for the fictional "Leoch Castle" in the TV adaption of Outlander.