History of the Stewarts
| Castles and Buildings
If you are a Stewart Society Member please login above to view all of the items in this section. If you want general information on how to research your ancestors and some helpful links - please look in background information.
If you have a specific question you can contact our archivist.
Stirling Castle
Stirling, Stirlingshire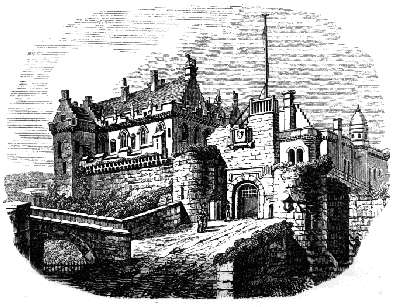 Stirling Castle
A commanding position dominating the pivotal point of Scotland. It has been a Royal Castle since the 1100s.
Stirling Castle, like her sister in Edinburgh, is not just a single building but a group of interwoven defences, castle, palace, fortress and courtyards all in one, occupying the summit of one of the most impressive volcanic rocks to be seen anywhere. It is the navel of Scotland, standing at the pivotal point on the River Forth, guarding the land routs north and south and controlling the obvious bridgeing point with uninterrupted views east and west. So obvious is its position that it has been a stronghold since men first followed the retreating ice-cap northward at the end of the last Ice-age some 10,000 years ago. Every Scottish monarch has paid close attention to Stirling as an important strategic site and failure to command it has usually led to disaster.
James IV and V lavished much time, energy, love and money on strengthening and embellishing Stirling as one of their favourite palaces. James V built a great Parliament Hall there, rivaling in grandeur the one built a century later under Charles I in Edinburgh. James IV´s private family chapel has recently been unearthed by archaeologists and Historic Scotland has done a great deal of excellent restoration on the Banqueting Hall and other major parts of the structure.
Mary, Queen of Scots spent much of her early childhood here. Her coronation took place here also in the chapel royal (this building no longer stands; it was replaced in 1594 by the present chapel royal). The ceremony was conducted by Cardinal Beaton, Archbishop of St Andrews and head of the Church of Scotland. Her son, James VI was christened in this chapel. The ceremony was performed by James Hamilton, Archbishop of St Andrews. he was the illegitimate brother of the former Regent Arran and had succeeded the murdered Cardinal as head of the pre-Reformation Church.
On the 21st April 1567, Mary went to Stirling Castle, where her son had spent the last month in the care of the Earl of Mar. The Queen had intended to bring him to Edinburgh but Mar refused to release the child, fearing what might happen if he fell into Bothwell´s hands. Mary was furious but Mar insisted. Eventually, Mary left not knowing she would never see her son again.
Today Stirling Castle is one of the show-places of Scotland and following a major refurbishment project, it can now be seen much as it might have been in the 1540´s when Mary, Queen of Scots, lived here as a child.