History of the Stewarts
| Castles and Buildings
If you are a Stewart Society Member please login above to view all of the items in this section. If you want general information on how to research your ancestors and some helpful links - please look in background information.
If you have a specific question you can contact our archivist.
Falkland Palace
Falkland, Fife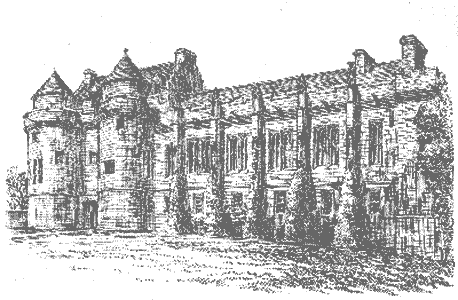 Falkland Palace Royal Hunting Lodge in Fife
Royal Hunting Lodge in Fife, Falkland was a favourite old royal residence.
By 1371 Falkland belonged to Robert Stewart, Earl of Fife and Menteith, a son of Robert II. Under the title of Duke of Albany he became Regent of Scotland and lived at Falkland as his main residence for thirty-four years. It was here that his nephew, David, Duke of Rothesay, was imprisoned and died, some say in "mysterious circumstances".
This was one of the favourite retreats from the cares of government for the Stuart kings and James IV largely rebuilt the structure which he had inherited from his father. James V embellished it further. His additions include the twin circular towers of the gatehouse - now the palace´s most distinctive feature. His bed chamber is still shown to visitors. It was in this room, in which he died in 1542, that he spoke his famous last words "It cam wi´ a lass and it´ll gang wi´ a lass", referring to the Crown of Scotland having come into the Stewart family with Marjory Bruce and leaving it again, as he saw it, with the infant Mary, Queen of Scots, who was only a week old when James died.
Mary often came to Falkland to enjoy the hunting. Deer were brought to Falkland specifically to be released for the hunt, although they were not always killed. The queen also often played on the real tennis court at Falkland which was built for her father in 1539, and it still survives, one of the oldest in Britain.
There had been a serious fire in the reign of Charles II and the building became a ruin. This did not stop Rob Roy Macgregor occupying the palace for a time during the troubled upheavals of the 1715 Rising. He ravaged the neighbourhood extensively and carried off much loot and booty back to the Braes of Balquhidder.
The palace was saved, like so many other architectural treasures, by the 3rd Marquess of Bute, who bought it and restored it to its present state of splendour in the late nineteenth century. The property is now in the hands of the National Trust for Scotland.
The Stewart Society has visited here more than once, most recently in 2012.