History of the Stewarts
| Castles and Buildings
If you are a Stewart Society Member please login above to view all of the items in this section. If you want general information on how to research your ancestors and some helpful links - please look in background information.
If you have a specific question you can contact our archivist.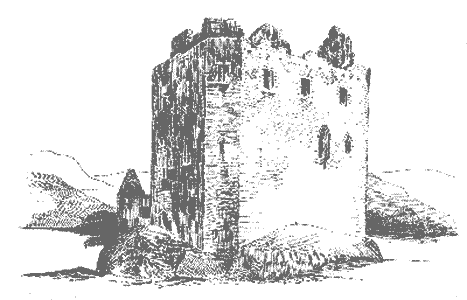 Carrick Castle - SWS Ayrshire
Carrick Castle is to be found on the west shore of Loch Goil in Argyll. The current building there is believed to be the third occupant of the location. The first believed to have been a Viking fort, the second a castle built in the 12th century that belonged to Robert the Bruce which he would go on to retake during his rebellion. The third structure was a late 15th century castle held by the Earls of Argyll as a symbol of their power.

Mary, Queen of Scots, visited the castle in 1563.

In 1685, during the rebellion of Archibald Campbell, 9th Earl of Argyll, against King James VII, HMS Kingfisher bombarded the castle, badly damaging the keep, which lost its roof.

The keep was a ruin for many years but is now in private ownership and undergoing restoration.