History of the Stewarts
| Castles and Buildings
If you are a Stewart Society Member please login above to view all of the items in this section. If you want general information on how to research your ancestors and some helpful links - please look in background information.
If you have a specific question you can contact our archivist.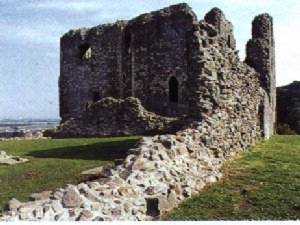 Dundonald Castle
Dundonald Castle is on a hill overlooking the village of Dundonald, between Kilmarnock and Troon in South Ayrshire. Dundonald Castle is a fortified tower house built for Robert II on his accession to the throne of Scotland in 1371 and it was used as a royal residence by Robert II and his son Robert III. Robert II built the castle to mark his accession to the throne, and died there in 1390. His forebear, Walter, High Steward of Scotland, built the first castle in the mid-1100s

There is scarcely any trace left of either of the two castles built between the mid-1100s and 1371.

The first, of earthwork and timber, was replaced around 1260 by a formidable stone castle. This was kite-shaped on plan, with two twin-towered gatehouses. Part of the west gatehouse is still visibly incorporated in the present castle. Alexander, 4th High Steward was probably the builder. The castle suffered badly during the Wars of Independence (1296–1356).

The present castle is a huge tower house, three storeys high. The west face has armorial stones of the Stewarts and the Royal House. Unusually, the tower housed two feasting halls, one above the other, over ground-floor storage.