History of the Stewarts
| Historical Objects
If you are a Stewart Society Member please login above to view all of the items in this section. If you want general information on how to research your ancestors and some helpful links - please look in background information.
If you have a specific question you can contact our archivist.
The Bute Mazer
14th-century Drinking Bowl from Rothesay Castle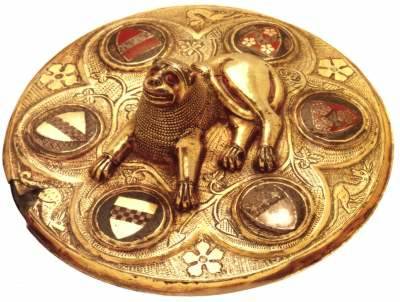 Bute Mazer 14th century drinking bowl
The Bute or Bannatyne Mazer is the earliest of all the Scottish mazer bowls. Its origins are obscure because it has apparently been altered during the early part of its life and it is no longer in its original condition. In the bottom of the bowl is the "print" or "castone", unique for its size and the three-dimensional figure of a lion which peers up at you as you look down upon it. The face of the lion must have been rather disconcerting as it gazed back at you while you drank. Some say that the Lion represents William I, the Lyon (1165-1214) while others think that it is no older than the time of the Bruce. It is currently dated at c1320 What has been established is that the six coats of arms around the lion refer to six chief councillors of Robert the Bruce, all of whom had influence on the Isle of Bute just after Bannockburn.
The coats of arms are those of The High Steward of Scotland, between the lion´s paws in the senior position, then (going clockwise), the arms of Douglas, Fitzgilbert, John Fitzgilbert, Crawford and Stewart of Menteith. The High Steward in question was Walter, 6th High Steward, who married Marjory Bruce. The Douglas shield refers to ´The Good Lord James´, another hero of Bannockburn and later to gain lasting fame as the man who set out with the Heart of the Bruce to the Holy War, only to die heroically in Spain on the way. Fitzgilbert, whose arms were gules three cinquefoils ermine, was the ancestor of the great house of Hamilton, who came to bear the same arms. John Fitzgilbert, brother of the last, was Captain and Keeper of Rothesay Castle, who probably caused the mazer to be made, though without its present rim and straps. Fifth is the shield bearing gules a fesse ermine for Crawford, Lord of Loudoun, Heritable Sheriff of Ayr. Lastly, we have the shield of Sir John Stewart, Lord of Arran and Earl of Menteith.
The rim, straps and foot date only to the first half of the sixteenth century and were added by Ninian Bannatyne of Kames, a castle a few miles to the north of Rothesay. Though unmarked, there is reason to suppose that the rim and straps were made by Peter Lymeburner, goldsmith in Glasgow, c.1525.
The mazer was bought by the 5th Marquess of Bute and is now on long loan to the National Museums of Scotland.