History of the Stewarts
| Historical Objects
If you are a Stewart Society Member please login above to view all of the items in this section. If you want general information on how to research your ancestors and some helpful links - please look in background information.
If you have a specific question you can contact our archivist.
The Darnley Jewel
Precious relic of the Darnley family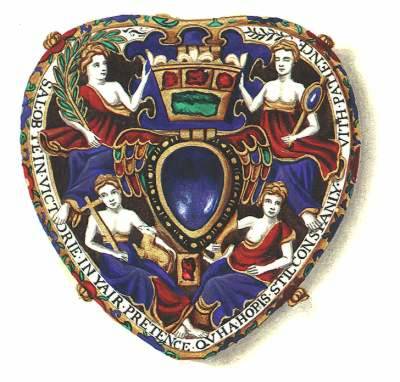 Darnley Jewel Precious relic of the Darnley family.
The Lennox or Darnley locket is said to have been commissioned by Lady Margaret Douglas, Countess of Lennox (1515-78), for her husband Matthew Stewart, Earl of Lennox and Regent of Scotland, who fell in battle in 1571. There are a few theories as to why the jewel was made. Generally it is believed to have been a memorial piece following the Earl's death although the jewel makes no allusion to the Earl's death. It has also possible that it was made to commemorate the return of the exiled Earl to Scotland in 1564 or the restoration of his lands and honours in 1565.
The heart-shaped locket was intended to be worn around the neck or on the breast. The complex iconography of memento mori motifs and symbols of profane and sacred love relate to the Earl and Countess's life together - the salamander is the crest of the house of Douglas and the heart its device and three fleurs-de-lis on an azure field form the first quarter of the Lennox arms. The jewel also reveals their ambitions for their grandson, the future James VI and I and provides him with the series of admonitions.
The jewel was in the collection of Horace Walpole in the 18th century. It was purchased by Queen Victoria at the sale of Strawberry Hill in 1842 and was listed among her private jewellery following her death in 1901.