History of the Stewarts
| Historical Objects
If you are a Stewart Society Member please login above to view all of the items in this section. If you want general information on how to research your ancestors and some helpful links - please look in background information.
If you have a specific question you can contact our archivist.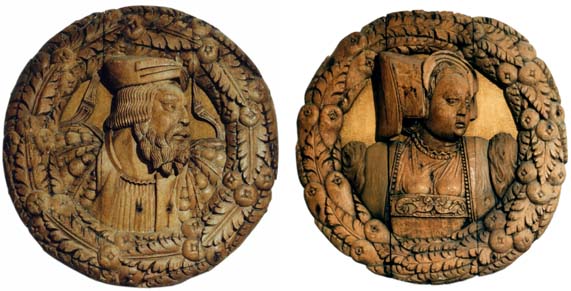 Found at Stirling Castle, these are thought to represent James IV and Margaret Tudor, the marriage that created a union of the Scottish and English royal families.
Inside the Castle, the King's presence chamber was richly decorated with 56 oak-carved heads, representing many of his courtiers, along with gods and heroes from Classical antiquity. Known as 'The Stirling Heads', and carved in the 1540s, they are perhaps the supreme example of renaissance iconography in Scotland. The courtiers are depicted in the style of classical gods at some sort of celestial court, and this reflects the Renaissance hankering for the cultural glories of classical Rome and Greece.
38 of the original 56 heads survive today, and they would have fitted into an oak framework on the ceiling of the king´s chamber- a fairly common feature in many palaces on the continent at the time.