History of the Stewarts
| Historical Objects
If you are a Stewart Society Member please login above to view all of the items in this section. If you want general information on how to research your ancestors and some helpful links - please look in background information.
If you have a specific question you can contact our archivist.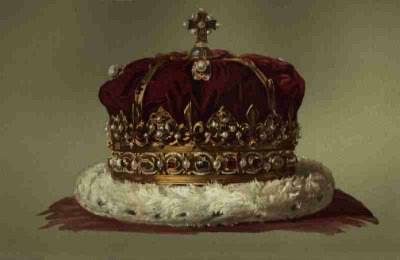 The Honours of Scotland credit:whiskeyevents.wordpress.com
The Honours of Scotland are the oldest regalia in the British Isles. They comprise a crown, a sword and a sceptre, all of which date from the 15th and 16th centuries. Together with the Stone of Destiny, these symbols of Scottish nationhood are on permanent public display at Edinburgh Castle.
The Sceptre of Scotland and the Sword of State were both gifts given to James IV by the Papacy, the sceptre in 1494 and the sword in 1507. The original silver-gilt sceptre was restyled and lengthened in 1536 to its present design which has a polished rock globe atop a finial featuring various religious figures. The sword is 4.5 feet (1.4 m) in length with an elborately decorated silver gilt handle and etched blade. It is acccompanied by a wooden scabbard covered in velvet and silver and a woven silk and gold thread belt.
The Crown of Scotland was refashioned in 1540 from an earlier crown for James V. The base circlet is made from Scottish gold and encrusted with 22 gemstones and 20 precious stones taken from the previous crown; freshwater pearls from Scotland´s rivers were also used.
Buried, lost and found.
The Honours have had a rather chequered history. They were first used together in 1543 for the coronation of the infant Mary, Queen of Scots and then at the coronations of James VI in 1567, Charles I in 1633 and Charles II in 1651. Charles II was in fact the last sovereign to receive the Honours and during the British civil wars of the mid 17th century, they lay buried in Kinneff parish church for nine years to avoid being destroyed as their English counterparts had been at the hands of Oliver Cromwell. Following the restoration of the monarchy in 1660, they were used at sittings of the Scottish Parliament to represent the monarch (resident in London in 1603 following the Union of the Crowns). After the Treaty of Union in 1707 removed Scotland´s independent parliament, the Honours were considered redundant and were duly locked away in a chest in Edinburgh Castle, where they were literally forgotten about for the next hundred or so years. They did not come to light again until 1818 when, under pressure from Sir Walter Scott, a detailed search of the castle uncovered the box and they have remained in the castle ever since.