History of the Stewarts
| Tartans
If you are a Stewart Society Member please login above to view all of the items in this section. If you want general information on how to research your ancestors and some helpful links - please look in background information.
If you have a specific question you can contact our archivist.
Stewart of Appin
Stewart of Achnacone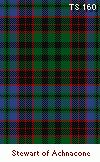 Highland Society No 568 called this ´Ancient Stewart´. It was made for Stewart of Achnacone by P.J. Haggart, Aberfeldy and as a result became mistakenly called ´Stewart of Achnacone´.
Today it is worn by Stewarts of Appin and was officially adopted by the Chief of Clan Stewart of Appin.
The picture above is from D.C. Stewart´s ´Setts´ publication of 1950. Of this tartan he says: ´This is quite unlike any other tartan; it is subdued in colour, but rich in effect. It belongs rather to the Stewarts of the Western Highlands, but was early accepted as the Clan Stewart tartan. In his publication of 1893, D.W. Stewart (D.C. Stewarts father) claimed that ´The use of this design as Stewart tartan for a period extending back to 1745 at least, is vouched by the records of manufacturers and collectors alike.´
.´W & A K Johnston in their 1906 work said ´This tartan has been known for more than a hundred years as the ´Stewart´ tartan and is supposed to have been worn in former times by such families as the Stewarts of Grandtully etc.´