History of the Stewarts
| Tartans
If you are a Stewart Society Member please login above to view all of the items in this section. If you want general information on how to research your ancestors and some helpful links - please look in background information.
If you have a specific question you can contact our archivist.
Stewart of Appin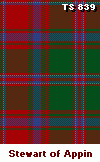 It was the red pattern to the right that became known by some as Stewart of Appin after being recorded by W & A K Johnston in 1906. The Stewarts of Ardshiel, a branch of the Appin Clan, have a certified tartan of their own dating back to the 1820´s, which has elements of the Appin design. Stewarts of Appin are descended from Dugald, the son of Sir John Stewart of Lorne who was murdered in 1463. Dugald established the Appin branch of the family.