History of the Stewarts
| Tartans
If you are a Stewart Society Member please login above to view all of the items in this section. If you want general information on how to research your ancestors and some helpful links - please look in background information.
If you have a specific question you can contact our archivist.
Stewart of Appin
Hunting Stewart of Appin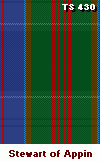 There is another Appin tartan that uses the over-checking associated with the MacDonald tartans. There is extensive correspondence about the use of the terms ´ancient´ and ´hunting´ in relation to this sett in the Stewart files at the Scottish Tartan Society. The use of brown makes this sett similar to the count of an early nineteenth century design recorded by James Scarlett. He says that the brown was probably black originally. (No. 417, The Highland Textile, 1990). It is also called Hunting Stewart of Appin. He also speculates that Alan Breck Stewart from Kidnapped would have worn a Appin sett.