History of the Stewarts
| Tartans
If you are a Stewart Society Member please login above to view all of the items in this section. If you want general information on how to research your ancestors and some helpful links - please look in background information.
If you have a specific question you can contact our archivist.
Stewart of Ardshiel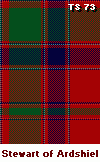 This is the earliest record of a Stewart of Ardshiel tartan, from the Highland Society of London (1812 or later). It differs from the Stewart of Appin in that the red is interchanged with the blue. The present Chief of Appin descends via the Ardshiel cadet.