History of the Stewarts
| Tartans
If you are a Stewart Society Member please login above to view all of the items in this section. If you want general information on how to research your ancestors and some helpful links - please look in background information.
If you have a specific question you can contact our archivist.
Stewart of Galloway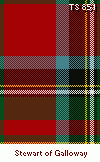 This pattern was taken from a tartan of this name that may be found at the Smith Institute in Stirling and made from Wilson´s of Bannockburn by the early 19th century. The Pattern books are in the National Museum of Antiquities, Edinburgh. Copies of the Pattern books and letters are in the Scottish Tartans Society archive.
Tartan register