History of the Stewarts
| Tartans
If you are a Stewart Society Member please login above to view all of the items in this section. If you want general information on how to research your ancestors and some helpful links - please look in background information.
If you have a specific question you can contact our archivist.
Royal Stewart
Stewart Black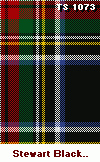 The Stewart Black appears in the Paton´s of Alloa collection, held by the Scottish Tartan Society before being returned to the company.The samples are undated but the collection is known to have been put together around the 1830´s, with some additions during the Victorian period.
.