History of the Stewarts
| Tartans
If you are a Stewart Society Member please login above to view all of the items in this section. If you want general information on how to research your ancestors and some helpful links - please look in background information.
If you have a specific question you can contact our archivist.
Royal Family Tartans
Balmoral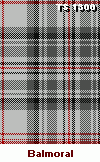 The Balmoral tartan is not produced commercially. It is worn by HM Queen herself as a skirt and several members of the Royal Family but only with the Queen´s permission. D.W.Stewart wrote in his book, Old and Rare Scottish Tartans (1893), "Her Majesty the Queen has not only granted permission for its publication here, but has also graciously afforded information concerning its inception in the early years of the reign, when the sett was designed by the Prince Consort." The grey threads are flecked to give an impression of granite and the two designs being variations of colour and scale.