History of the Stewarts
| Tartans
If you are a Stewart Society Member please login above to view all of the items in this section. If you want general information on how to research your ancestors and some helpful links - please look in background information.
If you have a specific question you can contact our archivist.
Royal Family Tartans
Prince Albert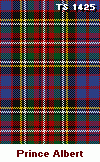 Another variation, available from Wilson´s of Bannockburn, with a sample existing in the Norwich Collection (early 18th Century). The pattern over-checks the remaining clear red under-check, which is also changed to blue as in Stewart Blue.