History of the Stewarts
| Tartans
If you are a Stewart Society Member please login above to view all of the items in this section. If you want general information on how to research your ancestors and some helpful links - please look in background information.
If you have a specific question you can contact our archivist.
Royal Family Tartans
Stewart Victoria or Royal Stewart Dress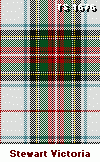 James Grant took all of the seventy two tartans in his book, Tartans of the Clans of Scotland, published in 1886 by W.& A. K. Johnston, from actual specimens in use at the time. Many are identical to those found in the earlier work of W. and A. Smith in 1850. The Victoria sett was known to have been favourably regarded by that great Queen. The tartan is also known as Royal Stewart Dress or simply Dress Stewart.