History of the Stewarts
| Tartans
If you are a Stewart Society Member please login above to view all of the items in this section. If you want general information on how to research your ancestors and some helpful links - please look in background information.
If you have a specific question you can contact our archivist.
Hunting Stewart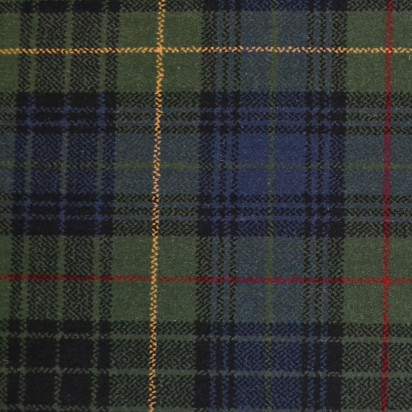 Hunting Stewart is often used as a general tartan and can be identified by an asymmetrical sett.
Wilsons´ of Bannockburn record it, before 1819, in a slightly different form from that now made and with a different irregularity, and the Sobieski brothers are known to have been experimenting with patterns using a green tartan that they called ´Stewart hunting´ around 1825.
The Wilson version, the basic design is - four bars, the inner pair about twice the wide of the outer repeated on the ground in black and blue; the blue section has a black surround and the spaces between the broad bars and the narrow are filled in with black and red, and yellow overchecks alternate on the exposed areas of green, the distance between them being slightly less over the blue section than over the black.
In the modern version, which is due to the Sobieski brothers, the blue section is enlarged by repeating the narrower blue bars and the adjoining black lines, similar to the Black Watch.