Online Shop
Shopping Basket
Your shopping basket is empty.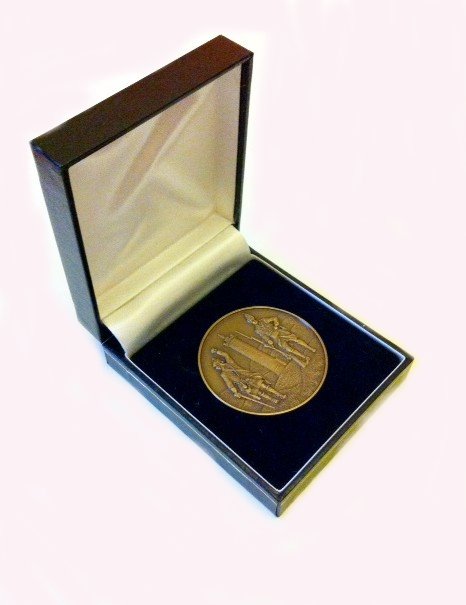 The Stewart Medal (Bronze) - 250th Anniversary of the '45 Rising
The Stewart Medal (Bronze)
Struck in 1995
This medal was specially commissioned by The Stewart Society to commemorate the two-hundred-and-fiftieth anniversary of the Jacobite Rising of 1745. It depicts, on the obverse, a Jacobite on the left, a redcoat on the right and the Glenfinnan Monument between them in the centre. The reverse has The Stewart Society´s name and arms, together with the dates 1745-1995.

The medal has been struck in three editions, 200 in bronze, 150 in silver and only 10 in silver-gilt: the bronze edition has been prepared to the highest standard by a specialist craftsmen. The silver edition, equally well finished, has been struck in Britannia Standard silver (95.8% silver) instead of the usual Sterling Standard (only 92.5% silver) and has been marked accordingly at the Edinburgh Assay Office, under the personal superintendence of Mr. Robert Williamson, the then Assay Master. There is also a very limited edition in silver-gilt, of which only ten have been, or ever will be, made; the silver-gilt edition was sold out immediately.


Immediately below the Glenfinnan Monument, in the case of the silver and silver-gilt editions, is punched the Edinburgh Hallmark for Britannia Standard silver for 1995, together with the sponsor´s mark of Walter H. Willson, a highly-skilled and highly-respected family firm of silversmiths which has a long connection with the production of medals and other specialist work. The Society is grateful to Mrs. Michael Rossi of Walter H. Willson for her part in the production of this fine medal, one of the best her firm has produced.

Brexit has brought many changes to the way small organisations such as the Stewart Society operate between the UK and the EU. and worldwide This will result in customers paying local tax and duty charges when the parcel arrives. Our products have always been fantastic value and even after this will continue to be. We are still shipping to the EU, and elsewhere we will continue to keep prices as low as possible, we are grateful for your continued support during this time.
The EU has changed its regulations from 1st July 2021, bringing more, smaller purchases within their VAT regulations and making them subject to charges.
The effect of this is that buyers of UK goods may now have to pay VAT, Customs duties and a handling charge imposed by the buyer's country's postal service. Previously, none of these charges would have been applicable. Goods passing through the buyer's country's Customs in this way may also be delivered more slowly. Buyers should be aware that their own country may well charge them VAT, Customs duties and a handling fee from now on for small purchases.
£ 55.00
UK postage: £ 5.00
Overseas postage: £ 7.50