Latest News
The Stewart Gathering 2020
The Stewart Gathering 2020 will be on 4-6 September and will be based in Borders at Sir Walter Scott's Abbotsford. We will visit some of the many beautiful Stewart houses and sites in the Borders. Further details and booking will be available very soon . Save the Date
You can see previous Gatherings in our photo gallery.
St Andrews Bursars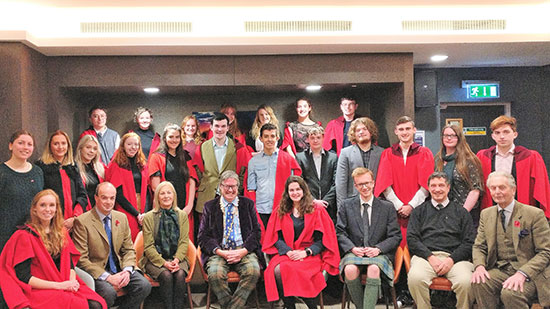 We were very pleased to meet the St Andrews Bursars for 2018/19 in an informal ceremony on the 6th of November 2018 at the Student Union. The Stewart Society was represented in force, by the President. Geordie Burnett Stuart (centre) , John Lansley, Lord Stewart (to the right of the picture); on the President's left, Lady Stewart and Aubyn Stewart-Wilson.
If you are an undergraduate student at St Andrews in 2019/20 you should have received an email already and we look forward to meeting you on the 19th of November in the Brecon bar in the Student Union at 5.30pm. Please make sure you reply to the email.
If you are a student elsewhere and you wish to apply for a busary please email info@stewartsociety.org to discuss your application
Newsletter
The newletter will be moving to an online only edition. Please make sure that we have email address at which you can be reached for the next edition in the winter. If you have news or articles for the autumn/winter edition please send them to Jenn at info@stewartsociety.org now
Gordon Stewart Piping Composition Competition
The Stewart Society, in conjunction with our partner organisation, Fèis Rois, are pleased to announce that our very worthy winner is Neil Anderson whose tune 'Brigadier General Jimmy Stewart ' was described by the judges as 'A lovely tune which we hope will be picked up and played widely'.
Members' Downloads
Available for download - is the Index of the Magazine volumes 1-19. Further volumes will be coming soon
The library catalogue and a list of the family trees and other family information that we hold are also available
Copley Portraits
These magnificent portraits of Duncan Stewart of Ardsheal and Appin and his wife, Anne Erving by John Singleton Copley are now on loan to Scone Palace, Perth and can be seen there in the Ambassador's room.
Bannockburn Genetic Genealogy Project
The University of Strathclyde have provided some very interesting results relating to individuals who share the same common ancestor - including Walter, the High Steward. Read more about the Bannockburn Genetic Genealogy Project and how to go about your own DNA test.
Marker for male line descendants of King Robert III (1337-1406):
The results of the Big Y test for a documented male line descendant of Sir John Stewart of Blackhall & Ardgowan, d. c.1412, an illegitimate son of King Robert III, have now been received and analysed. Alex Williamson, author of The Big Tree http://www.ytree.net/ has identified a new SNP carried by this individual, which has been given the name ZZ52. Our two other Big Y test results, that is one for Earl Castle Stewart, a descendant of Robert Stewart, Duke of Albany, and the other for a documented descendant of Sir John Stewart, Sheriff of Bute, do not carry this SNP. Robert Stewart, Duke of Albany, and Sir John Stewart, Sheriff of Bute are both brothers of King Robert III. This means that ZZ52 must have occurred in Robert III or one of his male line descendants. In other words, ZZ52 is a distinct marker identifying descendants of Robert III.
Events
Library Visits
We would love to see you! But please contact us in advance to make sure we will be in - Jenn sometimes works from home or has meetings etc. Drop her an email on info@stewartsociety.org or call 0131 2204512 - if you can do so at least a day before you want to come
Useful Links
Want help looking for your Stewart ancestors?
Try these links first. All helpfully gathered together in one place. Updated regularly so keep checking
Want to know more about the real history of tartan? Who wore what and when? How the Stuarts used tartan to help them with the Jacobite cause?