Latest News
Merry Christmas and a Happy New Year
The winter newsletter will be out this week and will be sent out to all members either by post or email.
Pictures (of the Gathering, your Stewart events and so on) and articles are welcome for both for the next Newsletter and next year's magazine . Please send anything to
Finally...
It's that time of year - your subscriptions for 2018 are due. A form will go out with the newsletter or you can re-join online
Please contact if you have any questions about your membership.
Merry Christmas and A Happy New year from everyone at the Stewart Society to all our members.
The Stewart Gathering 2018
The 2018 Gathering will be in Fife from Friday 3rd to Sunday 5th August.
You can book your place on The Gathering via our online booking form
The Stewarts Library Catalogue
The library catalogue is now online and can be accessed by members in the download section of the members' area.
The Stewarts
The annual magazine & summer newsletter are out and have been sent out to all members. If you require extra copies of the magazine then it is £5 plus P&P or you can pick an extra copy up from the office.There are some copies of previous years available to buy at £3 or specific articles can be sent as pdfs or photocopies to members. Ask about magazines.
Pictures (of the Gathering, your Stewart events and so on) and articles are welcome for both the winter Newsletter and next year's magazine . Please send anything to
Bannockburn Genetic Genealogy Project
The University of Strathclyde have provided some very interesting results relating to individuals who share the same common ancestor - including Walter, the High Steward. Read more about the Bannockburn Genetic Genealogy Project and how to go about your own DNA test.
Marker for male line descendants of King Robert III (1337-1406):
The results of the Big Y test for a documented male line descendant of Sir John Stewart of Blackhall & Ardgowan, d. c.1412, an illegitimate son of King Robert III, have now been received and analysed. Alex Williamson, author of The Big Tree http://www.ytree.net/ has identified a new SNP carried by this individual, which has been given the name ZZ52. Our two other Big Y test results, that is one for Earl Castle Stewart, a descendant of Robert Stewart, Duke of Albany, and the other for a documented descendant of Sir John Stewart, Sheriff of Bute, do not carry this SNP. Robert Stewart, Duke of Albany, and Sir John Stewart, Sheriff of Bute are both brothers of King Robert III. This means that ZZ52 must have occurred in Robert III or one of his male line descendants. In other words, ZZ52 is a distinct marker identifying descendants of Robert III.
Gordon Stewart memorial composition competition
The Trustees of the Benevolent Fund would like to thank Feis Rois for all their help with the competition and getting together an expert panel of judges. The Trustees are happy to announce that the winner was Graham Mackenzie who received his prize at the Stewart Highland Games.
You can hear some his music here: https://www.bbc.co.uk/music/
St Andrew's Stewart Bursars 2017/18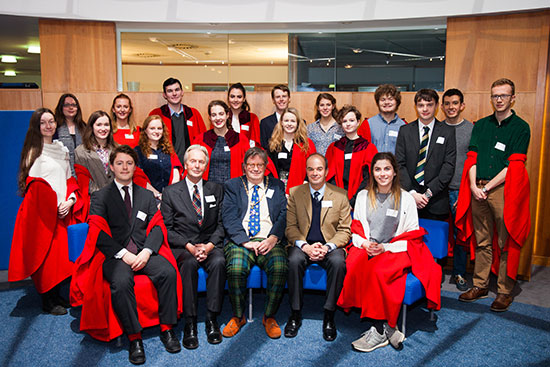 The St Andrew's Bursars for the academic year 2017/18
It was very good to meet the St Andrews Bursars for 2017/18 on Wednesday 15th November 2017. The President, Geordie Burnett-Stuart, Vice President, Lord Stewart and Council member Aubyn Stewart-Wilson met the bursars.
The Stewart Society Benevolent Fund supports Stewart students at St Andrew's University with a small grant each year.
Small grants may also be available for Stewart/Stuart students at other universities and institutions seeking to further their studies through travel, additional studies or other means.
Please apply for further details to the Secretary by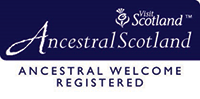 Learn new skills whilst exploring your family history. We offer flexible beginner to intermediate online courses including:
Genetic Genealogy: an Introduction
Introduction to Heraldry
Family History Research: Beyond the Basics
Courses run for 8 weeks and begin in January, April and October. On-campus classes are also available. If you'd like to develop your knowledge and skills further, contact us to find out about our online Postgraduate Certificate, Diploma or MSc in Genealogical, Palaeographic and Heraldic Studies.
For further information on our courses, please visit us at:
www.strath.ac.uk or call 0141 548 2116
Genetic genealogy and the Stewarts
Our Battle of Bannockburn Family History Project has involved DNA testing of male Stewarts. Current outcomes -
Distinct marker identified for descendants of King Robert III
Distinct marker identified for descendants of Sir John Stewart, Sheriff of Bute
If you are a male Stewart, DNA testing can tell if you descend from these individuals, or alternatively from Sir John Stewart of Bonkyl.
With more testees and further research, even more can be discovered about which branches of the Stewarts our present day families descend from.
Interested in taking a DNA test? For advice contact Graham Holton at
Donations towards our research – please see www.strathgenealogy.org.uk for further details.

Events
The next Council Meeting
The next Council meeting is on the Tuesday 24th October at 6pm at 53 George St.
The Stewart Society Library
The Society has an extensive library of books, artefacts and papers related to the Stuarts/Stewarts and Scottish history as well as genealogical research at our offices in George St, Edinburgh.
We would be very happy to see you here and the library is available to any member by appointment. Please let me know if you looking for anything in particular in advance so I can look it out! Make an appointment with the Secretary by or call 0131 220 4512
The office will be closed from the 23rd December to 3rd January.
Useful Links
Want help looking for your Stewart ancestors?
Try these links first. All helpfully gathered together in one place. Updated regularly so keep checking
Want to know more about the real history of tartan? Who wore what and when? How the Stuarts used tartan to help them with the Jacobite cause?