History of the Stewarts
| Battles and Historic Events
If you are a Stewart Society Member please login above to view all of the items in this section. If you want general information on how to research your ancestors and some helpful links - please look in background information.
If you have a specific question you can contact our archivist.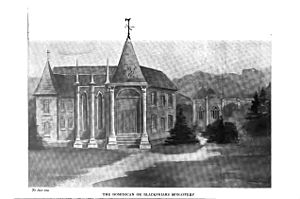 The Blackfriars Monastery
The ringleader of the plot against the king was Sir Robert Graham, who had personally felt the King´s displeasure early in his reign. Graham had been exiled in the Highlands. But Sir Robert Graham represented a strong body of opinion in the realm against the severity of James's rule and, along with the King's uncle, Walter, Earl of Atholl, hatched a plot to assassinate him. They intended to replace the King with the Earl of Atholl's grandson, Robert.
In February 1437 James lodged at the Blackfriars monastery, which was often used for royal councils or as lodgings, on the outskirts of Perth accompanied by the queen but separated from most of their servants.The king´s cousin Sir Robert Stewart, heir to his grandfather Walter, Earl of Atholl, was chamberlain of the royal household and used his privileged position to allow a small band of former Albany adherents led by Robert Graham to enter the building.The conspirators met no obstacles when they broke in at midnight, 20th February, except possibly, the arm of a woman thrust through the staples of the door, known as Kate Bar-lass afterwards.
During the delay, James tore up some flooring and lept into an underground vault or drain. Its exit, however, had been blocked at his orders since tennis balls could be lost there. The king mistakenly returned to his room when the conspirators were about to look elsewhere and the unarmed king was killed.
Although wounded, the queen managed to escape and sent a directive ahead to Edinburgh for the now James II to be shielded from any widening of the conspiracy and had the boy king´s custodian, the pro-Atholl John Spens, removed from his post and replaced by the trusted John Balfour. Within a month the leaders were caught. The Earl of Atholl had a red-hot coronet placed on his head before he and his son were beheaded. Robert Stewart was tortured to death. Sir Robert Graham was found cowering beneath a rock on the edge of Loch Bhac above Blair Atholl, still known as Graham's Rock.
The King´s death served no useful purpose and changed little.
King James´ embalmed heart was likely taken on pilgrimage to the Holy Land following his interment at Perth Charterhouse, as the Exchequer Rolls of Scotland for 1443 note the payment of £90 to cover the costs of a knight of the Order of St John who had returned it to the Charterhouse from the Island of Rhodes