History of the Stewarts
| Battles and Historic Events
If you are a Stewart Society Member please login above to view all of the items in this section. If you want general information on how to research your ancestors and some helpful links - please look in background information.
If you have a specific question you can contact our archivist.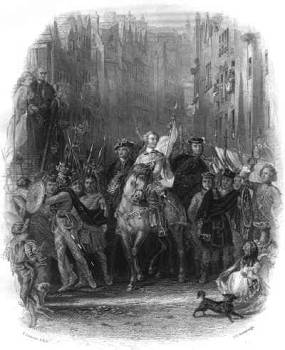 On the 11th of September, 1745, Prince Charles Edward, eldest son of the Chevalier St. George and grandson of James VII., marched from Perth, having passed the Forth on the 13th, on the 16th at night
He arrived near Edinburgh, and at five o´clock next morning the city was surrendered to him without any resistance. The Prince made his public entrance into the capital of Scotland, dressed in the Highland dress at the head of one thousand of the best-looking men, who conducted him in triumph to the palace of Holyroodhouse.
Archibald Stewart, who was then lord provost of the city, was soon after taken into custody for favouring the Jacobites, and committed to the tower of London, where he continued until the 23rd of January, 1747. The Lords of Session, the Lord Justice Clerk, and other members of the Court of Justiciary, with many other public servants , left the city; while General Guest, who commanded the castle, secured the treasure of the bank, the militia arms, and the most valuable effects of the principal inhabitants, within the walls of the garrison.
Meantime the prince took possession of the old apartments built by James V.
Prince Charles´s army was encamped at Duddingstone, on the south side of Arthur Seat, where a house is still pointed out as that in which he occasionally slept, and which was probably the quarters of some of his staff.
The prince returned to Edinburgh on the day after the battle of Prestonpans, and lived at the palace from the 22nd of September until the 3lst of October 1745. In the mornings, before the council met, Charles had usually a levee of officers and others who favoured his cause.
The Duke of Cumberland, on his return from Culloden, occupied the same apartments, and the same bed, which had been recently vacated by Prince Charles.