History of the Stewarts
| Castles and Buildings
If you are a Stewart Society Member please login above to view all of the items in this section. If you want general information on how to research your ancestors and some helpful links - please look in background information.
If you have a specific question you can contact our archivist.
Castle Urquart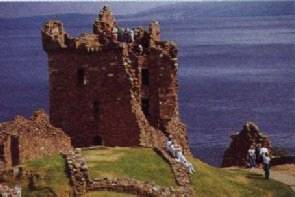 Urquart Castle The Wolfs Lair
One of the oldest fortified sites in the north of Scotland, built on a large detached projection of rock jutting out into Loch Ness on its northern shore. There has been a large defensive stronghold here since the Bronze Age. It became a Royal Castle, was captured by Edward I of England in 1297 and again in 1304, and was re-occupied as a Royal Castle by Robert I, the Bruce, after Bannockburn (1314). In 1450 the Earl of Ross briefly gained control but on his forfeiture it again reverted to the Crown. It was attacked and occupied by the Lord of the Isles and then wrested from him by the Grants of Fruechie, who were later granted ownership as a reward for their loyalty to James IV. After much further eventful and destructive history the castle became a ruin.
The walls of the oldest surviving part of the keep (c.1509) are some 14 feet thick at ground level, which is probably a record for solidity. Above that they thin out to about 8 or 9 feet.
Originally one of the strongest castles in Europe, it is now one of the most picturesque of ruins and a favourite stopping place for tourists hoping to catch a glimpse of the elusive Loch Ness Monster.