History of the Stewarts
| Castles and Buildings
If you are a Stewart Society Member please login above to view all of the items in this section. If you want general information on how to research your ancestors and some helpful links - please look in background information.
If you have a specific question you can contact our archivist.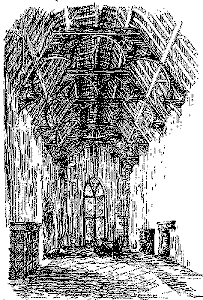 Darnaway Castle - The home of the Earls of Moray
Darnaway Castle is located in Darnaway Forest, 3 miles southwest of Forres in Moray. This was Comyn land, given to Thomas Randolph along with the Earldom of Moray by King Robert I. The castle has remained the seat of the Earls of Moray ever since. Rebuilt in 1810, it retains the old banqueting hall, capable of accommodating 1,000 men.
Sir Thomas Randolph probably built the first castle. John, 3rd Earl, died at the Battle of Neville´s Cross in 1346 without male heirs, and the earldom went to Patrick Dunbar, who was the husband of one of John´s daughters. The male line of the Dunbars failed around 1430, and the earldom went to the Douglases. When Archibald Douglas, Earl of Moray died in battle on May 1, 1455, fighting with his brothers against King James III, who had decided to curb the power wielded by the Douglases, the Moray title and estates were forfeited along with various other Douglas possessions. It passed to the Murrays, and then to the Stewarts, with whose descendants it remains
The banqueting hall is the only remaining portion of the castle that was erected in 1450 by Archibald Douglas, Earl of Moray, and retains its 15th-century hammerbeam roof, making it one of only two medieval halls in Scotland with its original roof, "a specimen almost unique in Scotland." The hall was already notable in 1562 when an English observer described it as, "verie fayer and large builded." The hall was re-roofed with "spune thak", wooden shingles or shakes hewn by a carpenter, in November 1501 at the command of James IV of Scotland.
In 1562 Mary, Queen of Scots held a council at Darnaway. She then invested her half-brother, Lord James, in the Earldom of Moray.
In 1810 a large new castle was erected in front of the ancient hall, and connected with it, so that the hall forms part of the existing mansion.
The castle is still occupied by the family.
Here is the castle shown on one of the first detailed maps of Scotland done in the beginning of the 17th century
point´s maps
.
The Society was fortunate enough to visit Darnaway in 2019 on the Stewart Gathering