History of the Stewarts
| Castles and Buildings
If you are a Stewart Society Member please login above to view all of the items in this section. If you want general information on how to research your ancestors and some helpful links - please look in background information.
If you have a specific question you can contact our archivist.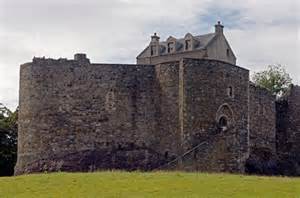 Dunstaffnage Castle is a partially ruined castle in Argyll and Bute, Oban. The castle is south-west of the entrance to Loch Etive, and is surrounded on three sides by the sea.
The castle dates back to the 13th century, making it one of Scotland´s oldest stone castles, in a local group which includes Castle Sween and Castle Tioram. Guarding a strategic location, it was built by the MacDougall lords of Lorn, and has been held since the 15th century by the Clan Campbell. To this day there is a hereditary Captain of Dunstaffnage, although they no longer live at the castle. Dunstaffnage is maintained by Historic Scotland, and is open to the public, although the 16th century gatehouse is retained as the private property of the Captain.
In the 15th century, the owners of Dunstaffage were the Earls of Argyll who appointed Captains to oversee Dunstaffnage, and keep it in readiness, on their behalf. Changes were made to the buildings, particularly the gatehouse, which was rebuilt around this time. The Campbells were loyal allies of the royal house, and Dunstaffnage was used as a base for government expeditions against the MacDonald Lords of the Isles, among others, during the 15th and 16th centuries. James IV visited Dunstaffnage on two occasions
Dunstaffnage saw action during the Civil War, holding out against Montrose´s army in 1644. The castle was burned by royalist troops, following the failure of the rising of the 9th Earl of Argyll in 1685, against the Catholic James VII.During the Jacobite risings of 1715 and 1745, the castle was occupied by government troops. Flora MacDonald, who helped Bonnie Prince Charlie to escape from Scotland, was briefly imprisoned here while en route to imprisonment in London.
The Campbells continued to add to the castle, building a new house over the old west range in 1725. However, the rest of the castle was already decaying. In 1810 an accidental fire gutted the castle, and the Captains ceased to live here, moving to Dunstaffnage House, some 2 km to the south-east, until this too burned down in 1940. A tenant lived in the 1725 house within the castle until 1888.
Restoration work was undertaken in 1903 by the Duke of Argyll, the castle´s owner. This was followed in 1912 by a court case, in which the Court of Session ruled that Angus Campbell, the 20th hereditary Captain, had right of residence notwithstanding the Duke of Argyll´s ownership. Works were delayed by World War I, and the planned total restoration was never completed. In 1958, the 21st Captain and the Duke agreed to hand the castle into state care, and it remains a Historic Scotland property.