History of the Stewarts
| Castles and Buildings
If you are a Stewart Society Member please login above to view all of the items in this section. If you want general information on how to research your ancestors and some helpful links - please look in background information.
If you have a specific question you can contact our archivist.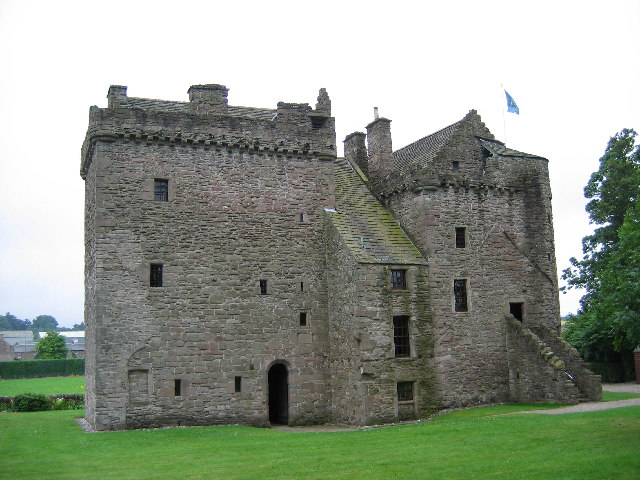 Huntingtower Castle - © Copyright Brian D Osborne and licensed for reuse under Creative Commons Licence
Huntingtower was a resting place for Mary during the Chaseabout Raid of 1565 when she and Lord Darnley led their army against Protestant rebels.
In 1582, the Earl of Ruthven abducted Mary´s son King James VI and held him prisoner there. This kidnapping is known as the ´Raid of Ruthven´ and the Protestant conspirators behind it hoped to gain power through controlling the king. James eventually escaped and actually forgave Gowrie, but after a second abortive attempt by Gowrie and others to overthrow him, Gowrie was finally executed and his property (including Huntingtower) was forfeited to the crown.
The Castle and lands were restored to the Ruthven family in 1586. However in 1600, the brothers John and Alexander Ruthven were implicated in another plot to kill King James VI and were executed. This time, the king was less merciful: as well as seizing the estates, he abolished the name of Ruthven and decreed that any successors would be ineligible to hold titles or lands. Thus the House of Ruthven ceased to exist and by royal proclamation the castle was renamed Huntingtower. The Castle remained in the possession of the crown until 1643 when it was given to the family of Murray of Tullibardine (from whom the Dukes of Atholl and Mansfield are descended).
John Murray, 1st Duke of Atholl resided in the Castle, where his wife Lady Mary Ross bore a son 7 February 1717. The Castle began to be neglected and after Lady Mary died in 1767, it was abandoned as a place of residence except by farm labourers.
Today, the Castle can be visited by the public and is sometimes used as a venue for marriage ceremonies. It is in the care of Historic Scotland (open all year; entrance charge).