History of the Stewarts
| Castles and Buildings
If you are a Stewart Society Member please login above to view all of the items in this section. If you want general information on how to research your ancestors and some helpful links - please look in background information.
If you have a specific question you can contact our archivist.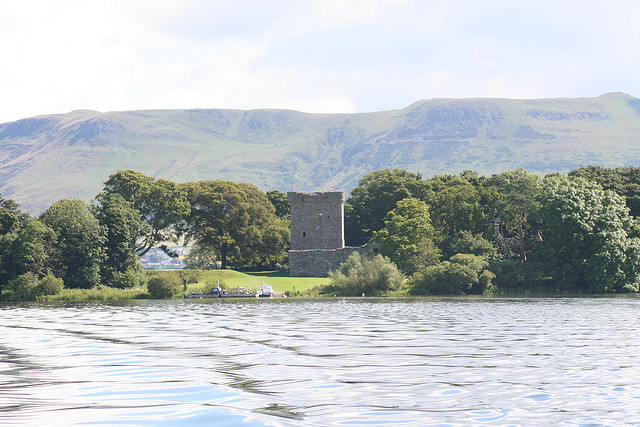 Loch Leven Castle
Possibly built around 1300, the castle was the location of military action during the Wars of Independence . In 1390 King Robert II granted the castle to William Douglas, 1st Earl of Douglas, and it remained in Douglas´ hands for the next 300 years.
Mary, Queen of Scots first visited Loch Leven in 1565 as a guest of Sir William Douglas of Lochleven . She held an interview here with John Knox.
Mary returned to Loch Leven as a prisoner, from 17 June 1567 until her escape on 2 May 1568.At the battle of Carberry Hill on 15 June, Mary surrendered to her noblemen, who opposed her marriage to the Earl of Bothwell. She was taken to Loch Leven and given into the custody of Sir William Douglas of Lochleven, spending most of her captivity living in the early 16th-century Glassin Tower, at the south-east corner of the castle. Aside from Sir William, the household included his mother Lady Margaret Douglas, mother of Mary´s half brother the Earl of Moray, and his brother George Douglas, as well as Willie Douglas, a young orphaned relative. Mary fell ill on arrival, and sometime before 24 July she miscarried twins that she had conceived with Bothwell. Only a few days later she was forced to abdicate as Queen of Scots, in favour of her infant son James.
Mary recovered during the autumn and winter, and gradually won over George Douglas to her own cause. A contemporary wrote that George was "in fantasy of love wythe hir." On the night of the escape, Willie Douglas stole the keys and let Mary, dressed as a servant, out of the castle. She was rowed across the lake to where George Douglas and others awaited her, and they fled to Niddry Castle in Lothian. In 1588, the Queen´s gaoler inherited the title Earl of Morton, and moved away from the castle. It was bought, in 1675, by Sir William Bruce, who used the castle as a focal point in his garden; it was never again used as a residence.
Loch Leven Castle was given in to state care in 1939, and is now managed by Historic Scotland. Today, the castle can be reached by a small ferry operated from Kinross by Historic Scotland during the summer months. The Stewart Society visited Lochleven Castle as part of our 2012 Gathering in Fife.