History of the Stewarts
| Castles and Buildings
If you are a Stewart Society Member please login above to view all of the items in this section. If you want general information on how to research your ancestors and some helpful links - please look in background information.
If you have a specific question you can contact our archivist.
Paisley Abbey
Paisley, Renfrewshire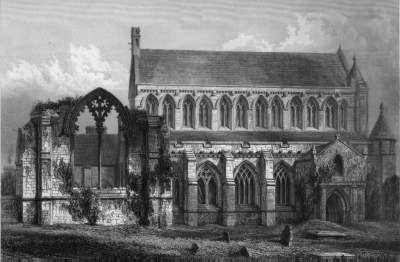 Paisley Abbey A Monastery for Renfrewshire
A pious foundation and a living prayer in stone
Paisley Abbey was founded as a priory in c.1164 by Walter Fitz Alan, 1st High Steward of Scotland. The following notes are supplied from the application leaflet for the conference held in Paisley on 11 & 12 September 1999.
The Monastery and Abbey of Paisley
Recent archaeological and historical studies have confirmed the importance of the 12th-century monastery and church at Paisley. Founded by Walter the High Steward in c.1164 with monks from the Cluniac Monastery at Much Wenlock in Shropshire, the priory at Paisley soon became a site of importance and wealth, owning lands throughout the south-west of Scotland and supported by major land-owning families. The farthest north of the Cluniac houses in Europe, Paisley was raised to abbatial status in 1219. Continued support from the Stewart family, and later the royal house of Scotland, emphasised the monastery´s importance.
The attraction of the local saint, St. Mirin, brought the site to prominence as one of the four major pilgrimage shrines in Scotland. Pilgrimage was encouraged by the Cluniacs and the monks built a daughter monastery at Crossraguel, later also raised to abbatial status, which stood exactly half way, as the crow flies, between Paisley and the next major centre of pilgrimage at Withorn. By the Reformation in 1560 Paisley was the fourth-wealthiest monastery in Scotland. The lands were transferred to the Hamilton family who subsequently became Dukes of Abercorn. The site has been demolished and built over on two occasions, with the building of the New Town of Paisley in the 18th century and the modern municipal buildings in the 20th.
Archaeological discoveries, especially of the great mediaeval drain of the monastery, have increased awareness in the importance of the site in Scotland´s history and as a place of continuous worship since the 12th century. Silt from the drain contained artefacts and botanical remains of international importance.´
The standard work on Paisley Abbey, available in reference libraries, is:
J. Cameron Lees: The Abbey of Paisley, from its Foundation till its Dissolution, with Notices of the Subsequent History of the Church, and an Appendix of Illustrative Documents. 340 pp., + clxxxv. Paisley, Alexander Gardner, 1878.