History of the Stewarts
| Castles and Buildings
If you are a Stewart Society Member please login above to view all of the items in this section. If you want general information on how to research your ancestors and some helpful links - please look in background information.
If you have a specific question you can contact our archivist.
Blair Castle
Blair Atholl, Perthshire

The finest show-piece castle in Highland Perthshire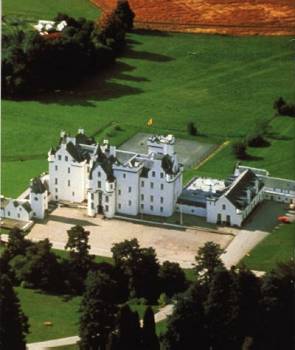 This wonderful castle has undergone many transformations, additions and improvements in its long history. It was the strategic seat of the ancient Celtic Earls of Atholl (descended from Duncan I in the 11th century) and was in effect the capital of a petty kingdom at the very heart of what is now Scotland. The first Stewart to be Earl of Atholl was Robert, High Steward of Scotland, afterwards Robert II, in 1341 and it remained a Stewart title, in several different families including royalty, until 1629 when it passing to the Stuart Murrays and finally to the present Murrays, Dukes of Atholl.
The castle was been altered many times. Originally a thick-walled square keep, it has been extended upwards and outwards in every century of its existence.The earliest known part of the present castle dates from 1269 and is known as Cumming's Tower. The original tower had an extension added to it by the 3rd Earl in 1530 to form a Great Hall (the present Dining Room) over a series of vaulted chambers below. In the eighteenth century it was "civilised" and made much more house-like by removing old battlements and turrets, only to have all these old features re-created again a century later by the 7th Duke, a noted historian and archivist whose interest in the history of his predecessors forms the basis for the present extensive Atholl Archive.
Blair Castle was the site of the last siege in Scotland, during the ´45 and it contains many Stewart portraits and Jacobite relics of great interest.
The Stewart Society last met there for its Annual Gathering on 24 August 1985, when Captain W. Rennie Stewart, RN, was President of the Society.
http://www.blair-castle.co.uk/