History of the Stewarts
| Castles and Buildings
If you are a Stewart Society Member please login above to view all of the items in this section. If you want general information on how to research your ancestors and some helpful links - please look in background information.
If you have a specific question you can contact our archivist.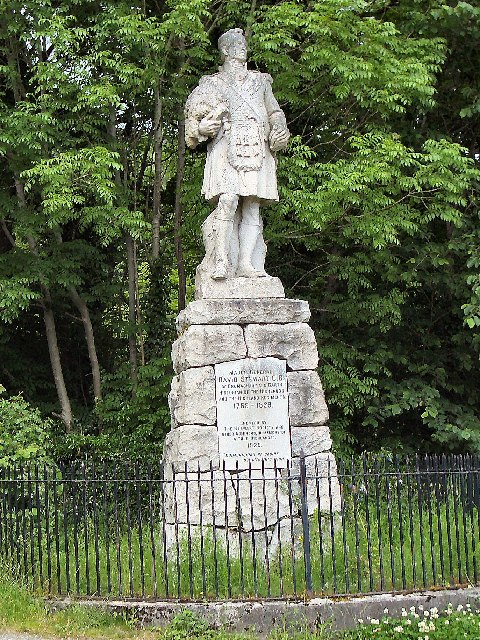 Statue of Sir David Stewart of Garth exhibited in RSA (1919) (now at Keltneyburn near Loch Tummel)
Major General David Stewart of Garth was the author of a pioneering history of the Highland regiments, ´Sketches of the Character, Manner and Present State of the Highlands of Scotland´ (1822). The work has been reprinted in facsimile and is still consulted. As a result of his writing, Garth was pivotal in instilling the concept of the romantic Highland figure in the consciousness of the British public. He helped organise George IV´s visit to Scotland in 1822.
Stewart joined the Black Watch Regiment in 1787, was wounded at Alexandria in 1801, and rose to the rank of Major-General in 1825. He died at St Lucia as Governor in 1829. Stewart´s medals, decorations and sword are in the National War Museum of Scotland.
His monument was erected by the Stewart Society in 1919. It was exhibited at The Exhibition of the Royal Scottish Academy of Painting, Sculpture and Architecture, in 1919. The monument was created by Henry (Harry) Snell Gamley (1865-1928) who was a sculptor specialising in war memorials and sculpture on tombs.