History of the Stewarts
| Castles and Buildings
If you are a Stewart Society Member please login above to view all of the items in this section. If you want general information on how to research your ancestors and some helpful links - please look in background information.
If you have a specific question you can contact our archivist.
Grantully Castle
Aberfeldy, Perthshire - A typical laird´s castle in a beautiful setting. Built by the Stewarts of Grantully.

Begun c.1400, added to c.1530, 1626 and 1893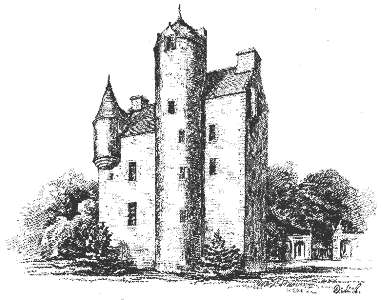 Grantully Castle Typical lairds castle
Standing near the south bank of the River Tay, about three miles east of Aberfeldy, Grantully is described by MacGibbon and Ross as "a very picturesque and striking example of an old Scottish mansion". Originally a square keep with a flat roof and a parapet, built by Stewart, of Grantully in c.1400, the castle was converted into a typical Z-plan arrangement in the mid-sixteenth century and added to again by Sir William Stewart, 11th laird, in 1626. His initials, together with those of his wife, Dame Agnes Moncrieffe, are found in several places in the building and in the garden wall and gate-house.
The only "action" which the castle saw was during the Glencairn Rising in 1654, when General Monck´s troops were stationed there. Being bitterly cold weather, the soldiers tore out the bog-oak panelling which Sir William had installed less than thirty years earlier and used it for firewood. In the 1890s a large wing was added, more than doubling the size of the building, at which date the chapel, was removed. The castle, which is not open to the public, and which has recently been renovated, remained in the hands of the same family until as recently as 1991.
Many people spell the name with a "d" in it as "Grandtully" but this is incorrect. The "d" is an intrusion made through ignorance in the nineteenth century; the mistake has now got itself onto Ordnance Survey maps and elsewhere but should not be followed. The family, the castle, the estate, etc., has always stuck with the old spelling of "Grantully". Henry Steuart Fothringham, OBE, 22nd of Grantully, is a past President of The Stewart Society.